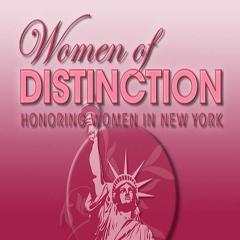 Award: Supporting New York's Heroes
Julie Menin is the former Chairperson of Community Board 1 in Lower Manhattan, a position she was unanimously re-elected to three times. She has been hailed in the press for her "solution driven" and "results oriented" approach to government – and her leadership abilities and hands-on approach have delivered again and again for the residents and businesses of New York City, producing a stellar record of accomplishment.
Ms. Menin is a former candidate for Manhattan Borough President, a regulatory attorney, small business owner and founder and President of Wall Street Rising, the not-for-profit she founded after 9/11 to rebuild Lower Manhattan. She formerly owned and operated Vine, a restaurant and catering business with over 75 employees in Lower Manhattan. She sits on the boards of the Municipal Art Society, Downtown Hospital, 9/11 Memorial, Women's Campaign Fund and the Eleanor Roosevelt Legacy Foundation, is a former board member of the Lower Manhattan Development Corporation, Citizens Union and Governor's Island, and is a frequent TV commentator on both local and national politics. She is also the former host of NBC's Give and Take.
Ms. Menin graduated magna cum laude with a Bachelor of Arts degree in Political Science from Columbia University and received her Juris Doctorate from Northwestern University School of Law. She was previously an associate at Wiley, Rein & Fielding in Washington DC, where she specialized in regulatory law, and was Senior Regulatory Attorney at Colgate Palmolive. She was named by City Hall newspaper as one of the city's "40 Under 40" Rising Stars, was voted by the New York Resident as one of the "100 Top New Yorkers," and was named NY1's "New Yorker of the Week." Her many civic honors include receiving the Women's Campaign Fund's "Rising Star" award, The National Association of Women Business Owner's "Community Service" award, City & State's Top 25 Women of Public Service award, The League of Conservation Voters 2010 award and Citizens Union's 2011 Civic Leadership award.
Ms. Menin and her husband, Bruce, live in Manhattan, where they are raising their three young sons.