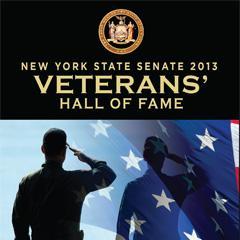 Award: Honoring Our Veterans
Dr. Elliott S. Palais, a resident of Yonkers, NY, has maintained a special connection with veterans throughout his many years of community service with numerous organizations - including as Commander of the Veterans of Foreign Wars, Yonkers City Post 1666; as Past Jr. Vice commander of the Westchester County VFW; and as Past Chairman and former Chairman, Yonkers Central Committee of Veterans Organizations. 
Currently the TRiO (Title IV) Director at Fordham University and past Adjunct Assistant Professor, Dr. Palais' personal and professional accomplishments speak for themselves. He has played active leadership roles with the Council for Opportunity in Education, the Association on Higher Education and Disability and the American Counseling Association. 
Parlaying his skills and expertise into the private sector while continuing his work on behalf of veterans and veterans organizations, Dr. Palais has received much recognition from the veterans community. In addition to his many years of selfless service to that community, Dr. Palais is currently Secretary of CCVO; Secretary of South Hudson Valley Veterans Coalition; American Legion, Charles N. Bajart Post. 
Dr. Parlais has received many awards plaques, proclamations and letters of commendation from federal, state, county and municipalities and organizations, with too many to mention here. Fordham University awarded him the Archbishop Hughes Medal for service to the University and Dr. Palais also received the Jenkins Award for Exceptional Service to a PTA. 
Dr. Parlais continues his work with a variety of national, statewide and local organizations. He has been married to his wife, Lorraine, for 60 years. They have four children, eight grandchildren and five great grandchildren.