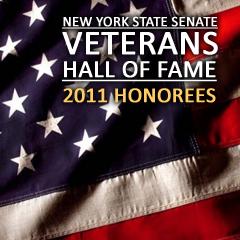 Award: Veterans' Hall of Fame
Justice Harold "Harry" G. Cronin is a World War II and Korean War Veteran who continues to serve our nation as a member of the Gerald B. H. Solomon Saratoga National Veterans Ceremony Honor Guard.
Harry Cronin enlisted in the U.S. Navy in September 1943, one week after his seventeenth birthday.  In June 1944, he was assigned to the newly commissioned USS LCI(L) Class Landing Craft (large), which participated in the Asiatic-Pacific theater campaign.  Harry served aboard for nearly three years as RM 2/C Radioman 2nd Class Petty Officer and was awarded the Asian-Pacific Campaign Medal with 3 bronze stars, Philippine Liberation Medal, Philippine Defense Medal, Philippine Independence Medal and Philippine Presidential Medal.  Following the end of World War II, Harry was part of a team that destroyed water mines in the Leyte Gulf.  For his service in the Korean War, Harry was awarded the Korean Conflict Medal and United Nations Medal.
Prior to enlisting in the Navy, Harry was an Air Raid Warden for the City of Albany in 1942 and 1943.
Returning home after Korea, Harry managed 110 A&P stores for two years and then  opened two restaurants. Harry also was employed by the State of New York for 32 years as a law examiner.
Harry has long been active in veterans' affairs and served as Deputy of the New York State American Legion Legislative Committee.  For the past 13 years, he has been a member of the Saratoga National Cemetery Honor Guard, ensuring that every veteran interred at the cemetery receives a proper military burial service.