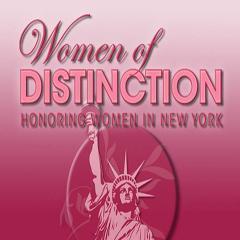 Award: HONORING WOMEN IN NEW YORK
Carrie Davis, MSW, currently serves as the Chief Programs & Policy Officer at The Lesbian, Gay, Bisexual & Transgender Community Center (The Center) in New York City. Ms. Davis oversees The Center's human services programming for LGBT youth, adults and families, as well as The Center's policy and education services. These programs provide over 9,000 LGBT people annually with community-based services to foster healthy identity and family development. These include substance abuse, mental health, HIV and AIDS, economic and educational opportunity, family creation and relational support, foster care resources, insurance navigation, and immigration support through the delivery of a range of supportive interventions, advocacy, outreach, education and capacity-building. 
As a transgender peer, Ms. Davis began working with The Center in 1998 to address the needs of transgender sex-workers, initially through nighttime street outreach. As a counselor, and later as a coordinator for The Center's Gender Identity Project (GIP), her work focused on offering counseling and groups for transgender and gender non-conforming youth, adults and partners. During this period, she was responsible for developing the core of The Center's transgender cultural competency training curriculum and has since delivered that curriculum to more than 5,000 providers including government agencies, not-for-profit agencies and schools. 
Ms. Davis has worked collaboratively with the New York Department of Homeless Services, Police Department, Commission on Human Rights, Department of Correction, Human Resources Administration and others to develop guidelines, policies, regulations and best practices to better serve transgender and gender nonconforming people. In fall 2014, after 11 years of direct advocacy by Carrie and a coalition of others, New York City's City Council and the New York City Department of Health & Mental Hygiene (DOHMH) approved regulations to enable transgender people to obtain revised birth certificates without genital surgery. 
Ms. Davis currently serves on the HIV Health & Human Services Planning Council of New York and the New York City Police Department LGBT Advisory Committee. The 2nd edition of Gary Mallon's "Social Work Practice with Lesbian, Gay, Bisexual and Transgender People" included her chapter on "Social work practice with transgender and gender non-conforming people." She joined the Hunter College School of Social Work in 2007 as an Adjunct Lecturer and served in this role through 2014.