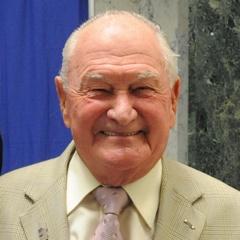 Award: Veterans' Hall of Fame
Sam Stahlman, who served in the Army Infantry during World War Two, is Senator Brian X. Foley's nominee for the New York State Senate Veterans Hall of Fame. Sam, who enlisted in the Army at 17 years of age, fought in the European Theatre.
He took part in the landing at Normandy and later in the Battle of Bastogne. Sam was wounded near the end of war. Although he received the Purple Heart, his wounds were not serious enough to put him on the sidelines and he was sent back into combat. Sam was twice awarded the Bronze Star and his unit received a Presidential Commendation twice. Of the awards and medals he received, Sam is most proud of his combat infantry pin. Sam currently resides in Patchogue, New York with his wife.