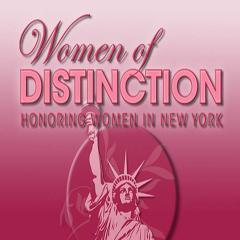 Award: HONORING WOMEN IN NEW YORK
Patricia Aitken, born and raised in Oyster Bay, Long Island, is a Planner at Nelson, Pope & Voorhis – an environmental planning fi rm with expertise in complex environmental project management and land use planning and analysis. In that capacity, Ms. Aitken assists in the protection of the coastal environment through her work on a Local Waterfront Revitalization Plan for the Town of Oyster Bay.
With a true love of sailing and birding – activities which bring her outdoors on a daily basis – Ms. Aitken began her volunteer experience with The Nature Conservancy in Cold Spring Harbor. As prior Executive Director of Oyster Bay's Friends of the Bay, an environmental advocacy group, Ms. Aitken oversaw the development and implementation of the Watershed Action Plan and the State of the Watershed Report, as well as an EPA-approved Quality Assurance Project Plan for Friends of the Bay's water quality monitoring program. Some of the projects she initiated during her tenure include: formation of the Oyster Bay/ Cold Spring Harbor Protection Committee; development of the Theodore Roosevelt Blueway Trail and a planned restoration of Beekman Creek. Ms. Aitken served on the Oyster Bay/Cold Spring Harbor Protection Committee, Northport Harbor Water Quality Protection Committee, Eastern Waterfront Committee and the Citizens Advisory Committee to the Long Island Sound Study, among others.
Also a writer for Boating Times Long Island, Ms. Aitken was named a 2013 "Trailblazer in Women's History Month" by Nassau County Legislator Judith Jacobs. She is a member of the Long Island Water Quality Coordinating Committee and serves on the boards of directors of the Whaling Museum and Education Center at Cold Spring Harbor and the Nassau County Soil and Water Conservation District. Ms. Aitken also represents the Whaling Museum and Education Center on the Citizen Advisory Committee to the Long Island Sound Study.
In addition to her work on behalf of our environment, Ms. Aitken was an active PTA member in the Syosset School District, was a Den Leader, Cubmaster, Assistant Scout Master and a Mate in Sea Scouts Ship Twelve. She is a member of both the Huntington Oyster Bay Audubon Society and the Queens County Bird Club. Quilting is another enthusiasm of hers, and she is currently President of the Huntington Quilters Guild.
During the summer months, Ms. Aitken can often be found kayaking or sailing in Oyster Bay or another of Long Island's beautiful embayments.