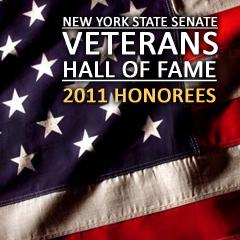 Corporal Anthony J. Costanzo
Award: Veterans' Hall of Fame
Anthony J. Costanzo of Jamestown served his country with distinction as a Combat Infantryman in the United States Army, serving in various campaigns throughout Europe and North Africa during World War II.
In January of 1941, 11 months before the Japanese bombed Pearl Harbor, Anthony joined the Army's 1st Infantry Division, the "Big Red One," and received his basic training at Fort Jay in New York City.
In November of 1942, his unit entered World War II in North Africa, as part of "Operation Torch", the first American ground campaign against Germany. He fought during the Battle of the Kasserine Pass in Tunisia and against the Vichy French government who had sided with Germany.
After the German Afrika Korps surrendered in May of 1943, Anthony's unit moved on to take Sicily as part of "Operation Husky."
On D-Day, June, 6 1944, the 1st Division stormed ashore at Omaha Beach. Soon after landing, Anthony and his comrades were fighting for their lives on a strip of beach near Coleville-sur-Mer.
After Normandy, he was assigned back to Italy where he served as an MP until the end of the war.
Anthony achieved the rank of Corporal and was awarded two Bronze Stars, a Purple Heart, a Combat Infantryman's Badge, Expert Rifleman Combat Badge, the American Campaign Defense Badge, the WW II Army of Occupation Medal, the European African Middle-Eastern Campaign Medal, the 1941-1944 World War II Medal and six gold service bars.
He came home from the war and worked for 40 years in a local furniture shop before retiring.
Today, Anthony is a dedicated member of the American Legion, Vice Commander of the color guard for VFW Post #53 and is the Sgt. Major of the firing squad for Vietnam Veterans of America Post #865.