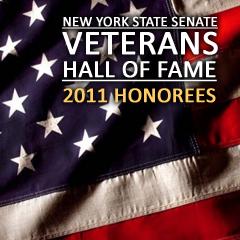 Brigadier General George A. Jones
Award: Veterans' Hall of Fame
Brigadier General George A. Jones has spent nearly his entire life serving his country and community.

His service began in 1939, at age 16, when he enlisted in the New York National Guard. He entered the regular Army in 1941, rose to the rank of 2nd Lieutenant in 1942, and fought in both the European and Pacific Theatres during World War II.  
General Jones returned to the National Guard in 1946 but reentered active duty for the Korean War, commanding an artillery battery. He returned to the National Guard in 1952, where he served another 18 years before retiring as a Brigadier General.
General Jones served outside the military as well. He was a 20 year member of the New York City Fire Department and the first president of the Vulcan Society, the nation's first organization of African-American firefighters. He spent over 30 years working for Nassau County, promoting employment and entrepreneurial opportunities for minorities and individuals with disabilities. He recently concluded 18 years as Board Chairman of the Urban League of Long Island.
A decorated veteran, General Jones earned the following awards: American Defense Service Medal; American Campaign Medal; Asiatic Pacific Campaign Medal; World War II Victory Medal; European-African-Middle Eastern Theatre Medal with 2 stars; Japan Occupation Medal; Korean Service Medal with 2 brass stars; and U.N. Service Medal. He also wrote a book, "The Character of Leadership" which chronicles his combat experiences.
General Jones and his wife, Eunice, reside in Roosevelt and are proud parents, grandparents, and great-grandparents.