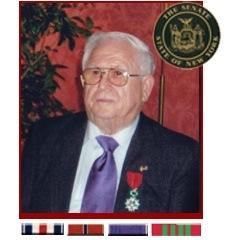 Staff Sergeant Lester Wilensky
Award: Veterans' Hall of Fame
Staff Sergeant Lester Wilensky is a highly decorated and courageous combat veteran of World War II whose contributions on the battlefield and as a civilian have earned him the respect and admiration of family, friends and colleagues, as well as permanent place of recognition in the New York State Senate Veterans Hall of Fame.
SSGT Wilensky served as a combat engineer in the first wave of the D-Day invasion of Europe, June 6, 1944. The sole survivor of his unit, SSGT Wilensky played a key role in the breakout from the Normandy beaches and saw action in nearly every major campaign of the European Theater, earning him a Silver Star, Bronze Star with Oak Leaf Cluster and Purple Heart with Oak Leaf Cluster, as well as the French Croix de Guerre. He was awarded the rank of Chevalier in the French Legion of Honor andwas a fellow at the New York Academy of Science.
As a civilian, Les' dedication to his community has also won accolades. A 50-year Boy Scout leader, Les has been recognized with the Silver Beaver award and the Iroquois Council Award of Merit. As a counselor and teacher to generations of Boy Scouts, his depth of knowledge and commitment to Scouting personify the Boy Scout motto, "Be Prepared."
Les Wilensky, a retired chemical engineer, holds advanced degrees in engineering and chemistry, and has sought to share his education, training and experience as a tutor and mentor to young people in his community. Les remains active in veterans' organizations and as a Knight of Pythias.
Les and his wife, Elaine, have two children, and live in Rockville Centre.