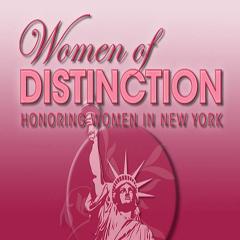 Award: HONORING WOMEN IN NEW YORK
Mathylde Frontus, with her civic mindedness and professionalism, is a diligent and steadfast woman who is known throughout her community for her spirit of unity and cooperation. Growing up in Coney Island, Ms. Frontus left where she called home to pursue her academic goals, only to proudly return to her community to open a neighborhood agency which would make a difference in people's lives. Founded by Ms. Frontus in 2004, Urban Neighborhood Services (UNS) is a non-profit organization that o ers an array of programs and services which are utilized by residents throughout New York City, as well as empower the residents of Coney Island on a daily basis.
The eldest child of Haitian immigrant parents, Ms. Frontus developed a natural affinity for helping others. As a student, she quickly assumed a leadership role by engaging in a number of volunteer and community service projects which earned her two prestigious awards. Similarly, as a student at New York University, Ms. Frontus continued to get involved in community service projects with the homeless, pre-school children, teen mothers, GED students, and others, which earned her the New York University President's Service Award for Volunteerism and Community Service in 1996 and then again in 1998.
Ms. Frontus has not only made her mark with her volunteer work, but also with her many academic achievements. She earned a Master of Social Work from New York University in 1999; a Master of Arts in Applied Psychology from Teachers College Columbia University in 2000; and a Master of Religious Studies from Harvard Divinity School in 2002. In 2004, Ms. Frontus began a Ph.D. program in Social Work at Columbia University, where she is now working on her dissertation on the mental health needs of the African American community and role of clergy in providing mental health services.
Ms. Frontus has a long history of utilizing her educational training and professional experiences to improve the community in which she lives. She has taken a teenage dream and turned it into reality which bene­fits the thousands of individuals who are served by UNS each year.