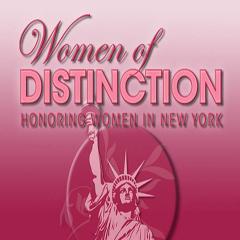 Award: HONORING WOMEN IN NEW YORK
Throughout her life, Dr. Martha MacGuffie truly exemplied the meaning of dedication and perseverance. Graduating from Cornell University in 1942, ­ finishing the pre-med program in three years, she became the ­ first woman surgeon to graduate from Columbia University's College of Physicians and Surgeons.
A pioneer in her ­ field, Dr. MacGuffie became the ­ rst woman surgeon on staff at Nyack Hospital, where she dedicated her 55 year career as a plastic surgeon specializing in burn and wound care. Her special interest in burn reconstruction led to her establishing the first burn unit at Nyack Hospital. From there, she went on to develop a prototype for a special waterbed that would ease the suffering of her burn patients and fashioned a line of skin care products to aid the healing process of her patients as well.
Dr. MacGuffie showed tremendous strength in the face of great personal loss. After tragically losing three of her sons, she started a Non-Governmental Organization, Society for Hospital and Resources Exchange (S.H.A.R.E.) in Kenya, Africa, in answer to her own suffering. To insure S.H.A.R.E.'s mission of "bringing hope and help to the orphans AIDS left behind" was reaching all those in great need, she traveled to Kenya twice a year, for 28 years. In addition to creating S.H.A.R.E, she was actively involved with other organizations that catered to those involved with the Rwanda refugee crisis.
In her late eighties when she was no longer able to travel, Dr. MacGuffie co-authored A Wondrous Journey and used her own story as a way to continue to make a difference by inspiring young people to chase their dreams, look for silver linings, and ­ find their own way to make a difference.