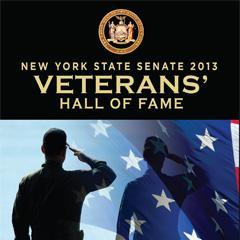 Award: Honoring Our Veterans
John "Jack" Drago was born on February 23, 1933 to Louis and Anna Drago. A lifelong Yonkers resident, Jack was a football standout at Roosevelt High School and voluntarily enlisted in the United States Army at the age of 17. Jack served three years during the Korean confl ict, during which he was awarded two bronze stars. He was honorably discharged with the rank of Sergeant First Class.
On June 7, 1955, Jack married Jean Fowlkes. Together, Jack and Jean were very active in veteran's affairs with VFW Empire Post #375 - where Jack served as a fi ve time Commander and once as Westchester County Commander. Jack was instrumental in coordinating many City of Yonkers Veteran's Day and Memorial Day Parades, pushed hard for the placement of numerous military monuments throughout the City of Yonkers and served in numerous capacities – including as Chair, Vice Chair and Treasurer – on the Yonkers Central War Veteran's Committee.
In addition, Jack was a regular at VA hospital and war veterans' events. A pillar of the community, he served as the president of both JFK little league and the Sherwood Park Civic/Homeowner's Association. In his professional life, Jack was a real estate agent for more than 35 years.
Most importantly, Jack was a dedicated son, husband, father, grandfather, great grandfather, brother, uncle and friend. Those who knew him can attest to the fact that Jack was a very hardworking, honest man who loved his family and was passionate about veterans activism. Jack passed away on March 8, 2010 after a long battle with diabetes.