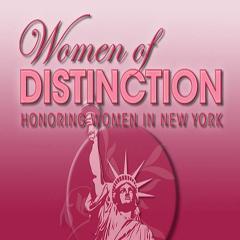 Award: HONORING WOMEN IN NEW YORK
Constance Glasgow, MD, has practiced pediatrics in Clifton Park since 1966, and was the first pediatrician to open a practice in that community. She earned her Doctor of Medicine degree from the State University of New York Health Sciences Center in Brooklyn and completed her residency in pediatrics at the Albert Einstein University of Medicine-Bronx Municipal Hospital Center. 
Dr. Glasgow is certified by the American Board of Pediatrics and is an attending physician at Ellis Hospital, the former St. Clare's Hospital and the former Bellevue Woman's Hospital, where she has also served as Chief of Newborn Services. 
Dr. Glasgow has been recognized nationally and locally for her expertise and dedication as a health care professional. Dr. Glasgow's many other honors include: the Juliette Low Woman of Distinction Award from the Girl Scouts; Mohawk Valley Pathways in 2007; the Jane Golub Award for Excellence in Women's Healthcare in 2008; the Henry A. Callis Jewel Award for Medicine from the Beta Pi Lambda Alumni Chapter of Alpha Phi Alpha Fraternity in 2009 and a New York State Community Distinction Award in 2012. 
Dr. Glasgow served as a board member of Schuyler Ridge Nursing Home, and is currently a member of the Ethics Committee at Ellis Hospital and the Neonatal Advisory Committee at Bellevue. 
Dr. Glasgow has tirelessly volunteered her time as a mentor to high school and college students interested in careers in medicine and has presented programs for area students on various health-related topics. She is a former member of the Committee on Special Education Services for the Shenendehowa School District. She also volunteered her services at the Saratoga County Public Health Clinic, at local churches, for the Girl Scouts and for charitable organizations. She has coordinated community health fairs in Saratoga Springs and Clifton Park, and traveled to China in 1988 with the Tropical Medicine Delegation of the Citizen Ambassador Program. 
She has been married for more than 50 years to Dr. Twitty J. Styles, Professor Emeritus of Biology and Parasitology at Union College. They have two children, Scott and Auria Styles.