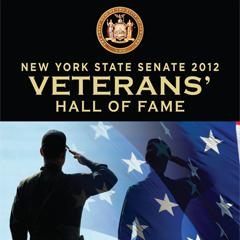 Award: Honoring Our Veterans
Dr. Barry R. Culhane served in the United States Army as a medic from 1969-1971, and has been active in local veterans' organizations for over forty years, including twenty years (1987-2006) as the President of the Vietnam Veterans Memorial of Greater Rochester. Dr. Culhane was instrumental in securing community support and financial resources to complete the Vietnam Veterans Memorial in Highland Park, and has received numerous honors for his efforts, most notably, when the County of Monroe and the City of Rochester declared September 8, 2006 "Barry Culhane Day" in Monroe County. In recognition for his work on the Vietnam Veterans Memorial, Dr. Culhane received the Outstanding Service Award from the Vietnam Veterans of America, Chapter 20 in 1996, and a year earlier, he was presented the Rochester Institute of Technology President's Award.
A tenured faculty member and associate professor at RIT since 1981, Dr. Culhane is the Executive Assistant to the President, and has been the Chairman for RIT's Innovation and Creativity Festival: Imagine RIT, since its inception in 2008. Dr. Culhane was also RIT's first Student Ombudsman, and in 1997 was the President of the national University and College Ombuds Association. Dr. Culhane is on the Al Sigl Community of Agencies Board of Governors and the Al Sigl Community of Agencies Board of Directors, where he served as Chairman from 2004-2006. He is also a current member of the Rochester Rotary Club, and was previously Club President in 2000 and 2001, and President of the Rochester Rotary Charitable Trust Board between 2002 and 2004. Dr. Culhane has also served as Chairman of the Board of Upstate Multiple Sclerosis from 1994 to 1996, and in 2001, he was named the Multiple Sclerosis "Angel of the Year."
A Rochester native and Gates Chili Spartan, Dr. Culhane was elected into the Gates Chili High School Hall of Fame in 1997. He is a graduate of the University of Windsor, Canada, and received his doctorate in cognitive psychology from the University of Rochester in 1976. Dr. Culhane is married to Dr. Christine Licata and they have two daughters.