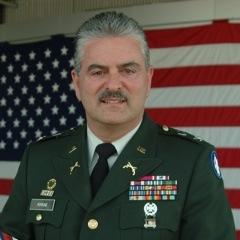 Award: Veterans' Hall of Fame
Colonel John Perrone of Rochester, New York served in the United States Army and Army Reserve for almost 35 years. He held several Command and Senior leadership positions while serving with the 98th Division (USAR) in upstate New York. In 2001, Colonel Perrone was selected to return to active duty in May 2001 as the Force Protection/Anti-Terrorism Chief of the 2002 US Olympic Games in Salt Lake City, Utah. He was responsible for developing plans, policies and procedures to protect US personnel and equipment while providing law enforcement liaison, risk analysis, threat assessment, force protection and anti-terrorism training.
While on tour the World Trade Centers were attacked on September 11, 2001, placing an enormous burden on the security of the games and our nation's ability to safely host an international event. New plans and policies were immediately adapted to include weapons of mass destruction and contingency operations. As the Chief of Force Protection, Colonel Perrone played a critical role in executing the largest integrated security event of federal, state and local law enforcement agencies in US History. The Games succeeded without a single significant security issue. After the Olympic Games, Colonel Perrone was selected to be the Commander of the Joint Detainee Operations Group at Guantanamo Bay Cuba. As the Commander of the al Qaeda Terrorist Detention Facility, COL Perrone was responsible for 1200 soldiers conducting long term detention operations that included receiving, securing and caring for over 600 suspected terrorist in support of the Global War on Terrorism. His duties also included escort operations in and out of Afghanistan, linguist and intelligence support and coordination with numerous Federal and State law enforcement agencies.
COL Perrone was the principal advisor to the Department of Defense on all security operations pertaining to the Terrorist Camp. In addition to his military service, COL Perrone served for 30 years as a local law enforcement officer at the Monroe County Sheriff's Department in Rochester, New York.
He retired in 2001 at the rank of Major of Operations and Division Commander to re-enter military service. During his over 35 years of public service, COL Perrone has received numerous Awards and Decorations. They include: Legion of MeritDefense Meritorious Service Medal w/Oak Leaf ClusterMeritorious Service with 3 Oak Leaf Clusters Joint Commendation MedalArmy Commendation Medal with 2 Oak Leaf Clusters Army Achievement Medal Global War on Terrorism Service MedalGlobal War on Terrorism Expeditionary MedalNational Defense Service Medal with 2 Bronze StarsArmy Reserve Achievement Medal with 7 Oak Leaf Clusters Army Service Medal Armed Forces Reserve Medal with "M Device and Gold Hour Glass"Military Outstanding Volunteer Medal District Attorney Outstanding Citizen of the Year 2X Italian American Law Enforcement Officer's Lifetime Achievement Award DARE Officer's Yearly Award for Civic Contribution John Fahi Humanitarian Award, NYC Police DepartmentMonroe Community College Hall of Fame Recipient.
Colonel Perrone currently serves as the Director of the Homeland Security Management Institute, an initiative of Monroe Community College where he is responsible for training and educating first responders and others who have a role in preparing, preventing, responding and mitigating major incidents.