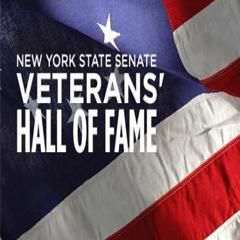 Award: Veterans' Hall of Fame
Nick Verzella, of the Village of East Rochester, is Senator Jim Alesi's honoree for the New York State Senate Veterans' Hall of Fame. 
Mr. Verzella is a member of "the Greatest Generation," having served in World War II between 1944 and 1946.  After graduating from East Rochester High School, he was sent to Fort McClellan in Alabama for basic training and then deployed to Europe, landing in Le Havre, France.  In Europe, Mr. Verzella joined the famed 78th Infantry Division, the "Lighting Division," shortly after V-E Day, May 8, 1945.  When the 78th Infantry Division was inactivated a year later, Mr. Verzella was transferred to the 16th Constabulary Squadron charged with the occupation of Berlin – a post he held for nine months – and rose to the rank of Sergeant.
Returning home from Europe, Mr. Verzella attended the State University of New York at Brockport, obtaining his Bachelors degree in Education in 1950, and his Masters degree in Administration in 1956.  In 1950, he began a remarkable, thirty-nine year career in public education in East Rochester schools, receiving numerous accolades for his years as a teacher, administrator and coach.
Mr. Verzella was twice named by the New York State Department of Education, in 1978 and 1983, as a finalist for Teacher of the Year.  In 1978, the Rochester Democrat and Chronicle wrote: "His red, white and blue classroom looks like a shrine to American heroes and patriotism."  Since his years in the service, Mr. Verzella has been extremely passionate and committed to East Rochester's Gold Star families, so that the residents of his community will never forget the sacrifices of those East Rochester sons and daughters whose names are forever engraved on the monuments at the Station of Heroes.
A longtime member of American Legion Post 1917 in East Rochester, and a perennial fixture as Master of Ceremonies for the Village's Memorial Day and Veterans Day observances, Mr. Verzella has been twice named Post 1917 Legionnaire of the Year, and in 1997, was named Monroe County Legionnaire of the Year for his commitment to his fellow veterans.