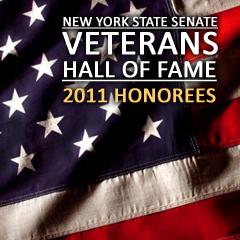 Award: Veterans' Hall of Fame
Charles Murphy was born in Syracuse, New York, on April 10, 1949 and died on February 23, 2011.  He grew up in North Syracuse, New York, and in 1967, he joined the U.S. Army.
Sergeant Major Murphy served honorably in both the Vietnam and Desert Storm conflicts and retired from the U.S. Army in 1991 as an Operations Sergeant Major after 24 years of service. 
During his distinguished career of military service to the United States, Sergeant Major Murphy was awarded two Purple Hearts, the Bronze Star, the Republic of Vietnam Gallantry Cross Unit Citation, the Vietnam Service Medal, the Conspicuous Service Star and the Conspicuous Service Cross for his actions and valor.
Upon returning to Syracuse, he continued to dedicate his life to serving the public.  He was a security chief at The Hotel Syracuse for many years, and then served for nine years as a legislative aide to Senator John A. DeFrancisco.  In his role as legislative aide, he devoted his time to helping countless veterans, senior citizens and other constituents.
Sergeant Major Murphy is survived by his daughter Dana Murphy of Germany; two grandsons, Joel and Lennard; sisters, Janet M. Franklin, Janice M. Smith and Patricia M. Herr; brothers, Daniel E. and Robert J. Murphy and several nieces and nephews.