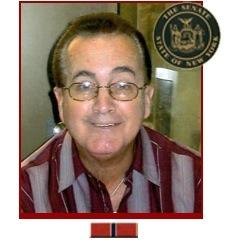 Award: Veterans' Hall of Fame
Kevin O'Hare of Kings Park spent the early part of his adult life in the service of his country. Now he spends his energies and talents in the service of the Long Island community.
Mr. O'Hare pursued a television career in New York City while attending night school at Nassau Community College, where he obtained an Associates Degree in business. In 1966, he was drafted to Vietnam as a Mortarman in the 25th Infantry Division. With his media expertise, he served as MC for Bob Hope's Christmas show and also toured Vietnam putting on USO shows. Working out of Saigon, Mr. O'Hare became the "Good Morning Vietnam DJ," and was awarded the Bronze Star medal for taking his shows to the front lines and helping to boost troop morale.
After his return, Mr. O'Hare spent 32 successful years with the RJR/ Nabisco company, all the while contributing his efforts to numerous community organizations, including the Knights of Columbus, the Kings Park Chamber of Commerce, the Smithtown Veterans Youth Program, the Cooley's Anemia Foundation, the Suffolk County Civilian Police Academy, and the Suffolk County Senior Citizens Advisory Board. An articulate spokesman, Mr. O'Hare has advocated for veterans issues through his active participation in the VFW, the American Legion, the Veterans of Vietnam War, the Suffolk County Veterans Advisory Board, the Veterans and Seniors Medical Transportation program, and in his current capacity as Events Coordinator for the Suffolk County Office for the Aging.