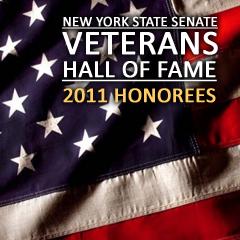 Award: Veterans Hall of Fame
Mr. William Beatty of Centereach served in the United States Army during the Korean War and is the honoree of Senator John J. Flanagan. His selection is based on the nomination from the administration of the Long Island State Veteran's Home (LISVH) in Stony Brook.
Mr. Beatty served as a Corporal in the 40th Infantry Division, 160th Infantry Regiment as part of the Regimental Combat Team and saw action in the Iron Triangle – the area in Korea bounded by Ch'orwon, Kumhwa, and Pyonggang.
Following his honorable service, Mr. Beatty dedicated himself to helping other veterans with an emphasis on those who call the Long Island State Veteran's Home in Stony Brook their home. He has been a member of the LISVH's Veterans Advisory Board since 1999 and has been its chairman for the past eight years.
For over fifteen years, Mr. Beatty has been serving as the 2nd Vice President for Korean War Veterans, Central Long Island Chapter, and he has been an active member of the Advisory Board of the Suffolk County Veterans Service Agency for the past 20 years.
Mr. Beatty's most enduring legacy to the veterans of Long Island was in the creation, development and design of the Suffolk County Gold Star Memorial in Armed Forces Plaza in Hauppauge. This memorial serves as a lasting tribute to the families that have lost a loved one in service to our country.
In addition to his work on behalf of fellow veterans, Mr. Beatty was a twenty-five year employee of the Long Island Rail Road and is a dedicated volunteer to St. Margaret's of Scotland Church in Selden.
Mr. Beatty is proud to share this honor with his wife of 56 years, Veronica.