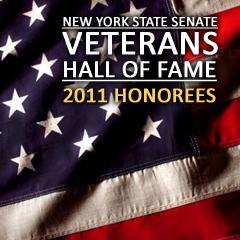 Award: Veterans' Hall of Fame
Ken Moore has spent his life dedicated to protecting and honoring our military personnel. 
Ken Moore was born and raised in Rochester, NY (Charlotte).  After graduating from high school, he worked for both the City of Rochester and the Eastman Kodak Company before being drafted for duty in the US Army in November of 1965. After basic training at Fort Dix and Fort Benning, he was deployed to the Republic of South Vietnam with D Troop 17th Cavalry.  He returned to the United States in November of 1967.
In the mid 1970s, he became involved with the local families of the POW/MIAs from the Vietnam War and spent some 10 years working to create awareness on the issue. In 1985, he became a member of Vietnam Veterans of America (Chapter 20) and has served proudly ever since. During his tenure with the VVA, he served as Board Member, Vice President, Secretary and President (an office he has held for the past 12 years). He also served in the Army reserves form from 1980 to 1985, retiring with the rank of Sergeant First Class.
In 1999, he was National Vice President of Veterans Aimed Toward Awareness.  In this position, he toured the country giving lectures on veterans' health and benefits. In that time, he teamed up with Heather French, Miss America 2000, whose platform was veterans health. Over the past 11 years, they have worked together on an awareness campaign focusing on veterans' issues. Today, he serves on the Monroe County Veterans Advisory Committee, 26th Congressional Advisory Committee, Greater Rochester Vietnam Veterans Memorial Committee, and lead mentor of the 7th Judicial District Veterans Court. 
Ken is married to his lovely wife, Sandra Dee, and they have two adult boys, Todd and Mark.