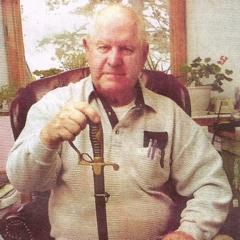 Award: Veterans' Hall of Fame
I am very proud to nominate my Uncle Jeff for the New York State Senate Veteran's Hall of Fame. At the age of 19, Uncle Jeff went to fight in World War II. He was part of an Army communications unit that was serving under General George Patton. Some of his duties included sending coded messages via teletype, breaking the codes of enemy messages that were intercepted, and installing communications wires.
He bravely fought in and survived two major battles of World War II: D-Day and The Battle of the Bulge. My Uncle Jeff told how the German troops would cut the communication wires laid by his unit….sometimes two or three times a day and sometimes even at night. Additionally, he was involved in the liberation of the Buchenwald Concentration Camp.
My Uncle Jeff indicated that he experienced quite a sad awakening when his unit moved into Germany near Weimar and saw the Buckenwald Concentration Camp. He remembered that U.S. leaders brought Weimar city officials to the camp to show them the horrifying sights of starvation, mass executions and furnaces where bodies were burned. Uncle told of a Polish-Jewish man (who weighed about only 50 pounds) was accepted by his unit, given a uniform, and was with the U.S. troops when he left for home. Shortly thereafter, he was hospitalized for eight weeks with yellow jaundice. At the conclusion of World War II, he received five battle stripes.
He was discharged in December 1945. Uncle Jeff indicated that the aforementioned Polish-Jewish man ended up living in Ohio after World War II and they had kept in touch every so often, until the man passed away.Once he returned back to Boonville, NY after World War II, he started Scherz Construction Company, a business he operated from his Boonville home. Some of the work his company did included working on projects at the former Griffiss Air Force Base in Rome, NY.
He also found time to be involved in Boonville government, both at the Town and Village level. He retired a few years ago. In 2007, my Uncle Jeff was among Oneida County World War II Veterans who took part in a bus trip to Washington, D.C., to visit the World War II Memorial and other Memorial sites. Respectfully submitted,Fritz Scherz