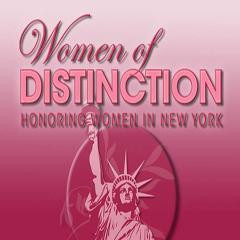 Award: HONORING WOMEN IN NEW YORK
To Marolyn Piersma Wilson, the sky's no limit for this Mohawk Valley community leader. Having flown since she was 10, Ms. Wilson is an accomplished pilot who has competed in and won cross-country and transcontinental air races for over 30 years. She enjoyed the competition so much, she became the president and race director of the Air Race Classic, Inc., a nonprofit organization that promotes general aviation and honors the tradition of pioneering women in aviation.
While her aviation exploits are known nationally, back home, she's become more renown for shooting the moon, as in Half-Moon cookies. Her family business,the Holland Farms Bakery & Deli, has been churning out delights since 1955. Together with her sister, Suzanne P. Harrington, they took the original milk delivery business their father started in 1928, and have made it into one of the best-known bakery and delis in Central New York. It's said that, if you wait in the store on any given morning, you'll see someone from every walk of life come through the door.
Not content with being a successful small business owner, Ms. Wilson dedicates her time and talents to raising money and awareness for nonprofit organizations throughout the Mohawk Valley. The American Heart Association, the American Red Cross, the Broadway Theatre League, the Mohawk Valley Chamber of Commerce, St. Luke's Memorial Hospital and the YWCA, have all counted her as one of the members of their respective boards. In a private moment, she may confess that her work on the Broadway Theatre League Board was due to her not-so-secret love for the stage, evidenced by having once toured with the USO and having attended the American Academy of Dramatic Arts in New York City.
If you ask Ms. Wilson, she still insists that her children and grandchildren are her most remarkable accomplishments.