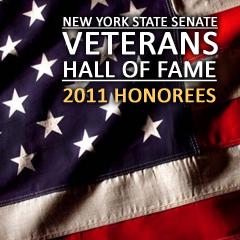 Award: Veterans' Hall of Fame
Bronx born Eugene ("Gene") G. Smith was sent to Vietnam in November 1968 as a member of Charlie Company, 1st Battalion, 7th Cavalry whose mission was to find, fix, and destroy the enemy through fire and maneuver; and to provide combat, combat support and combat service support in coordinated operations as an integral member of a combined arms team.
Gene graduated from Farmingdale College in 1967, worked briefly for Dorne & Margolin Aviation designing antennas for war-bound Bell Helicopters and shortly thereafter, in 1968, he was drafted and sent to Fort Jackson, South Carolina for basic training. Basic was followed by stints at Fort Polk, Louisiana and Fort Benning, Georgia for advanced training. Gene left training with a rank of corporal E-4.
For his service, Eugene G. Smith was awarded 3 Purple Hearts, Combat Infantry Badge, Vietnam Service Medal, Vietnam Combat Medal, Air Medals and Bronze Star.
Gene completed service in 1969 as Staff Sergeant E-6 and went back to college. He received a degree from Stony Brook University and later started Gene's Four Season's Landscaping and Nursery Inc. in Yaphank, New York. He also began Riverview Marine Service in Catskill, New York.
Gene, a staunch advocate for veterans, now has a non for profit to help veterans housing and independent living. Gene and his wife Pat, recently sold 100 acres of land in the core pine barrens region of Long Island to New York State so that it could be forever preserved. Generous, thoughtful, and filled with compassion, Gene plans on using the proceeds to help veterans.