Senator Zeldin Honors Eric Carver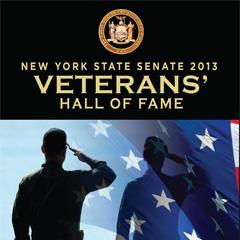 Award: Honoring Our Veterans
On April 9, 1986, Eric Carver enlisted in the U.S. Air Force and completed basic military training at Lackland AFB TX and Air Force specialty training in Aircraft Avionics communications/ navigations specialist at Keesler AFB MS. From there, Carver served at Columbus AFB in Columbus MS and Loring AFB in Limestone ME until Feb 1990.
In September 1990, Carver joined the New York Air National Guard as a member of the 106th RQW (Rescue Wing). He is currently serving and holds the rank of MSgt. (Master Sgt.), and in April 2013, just completed his 27th year of combined US Air Force service between active duty service and Air National Guard service.
MSgt. Carver has deployed to the following locations: Turkey, three times in support of Operation Provide Comfort II (OPC II, 1x) and Operation Northern Watch (ONW, 2x); Kuwait, three times in support of Operation Southern Watch (OSW); Afghanistan, two times in support of Operation Enduring Freedom (OEF); Iraq, one time in support of Operation Iraqi Freedom (OIF); and most recently returning from a four month deployment to Djibouti in the Horn of Africa in support of Operation Enduring Freedom (OEF).
MSgt. Carver has received numerous awards and medals: Air Force Achievement medal with 2 devices; Air Force Good Conduct medal; Air Force Reserve Forces Meritorious Service medal with 6 devices; National Defense Service medal with1 device; Armed Forces Expeditionary medal; Southwest Asia Service medal; Afghanistan Campaign medal with 2 devices; Iraq Campaign medal with 1 device; and Air Force Armed Forces Reserve medal with 3 " M" devices (mobilization devices).
On December 27, while Eric was serving in Djibouti Horn of Africa, his East Patchogue home was burglarized, set on fire and his pick-up truck was stolen. The home was completely destroyed, but his friends and neighbors rallied together to assist in helping raise funds to assist Eric in putting his home back together.
MSgt. Carver is also a member of the Air Force Association.