Senator Zeldin Honors George W. Egan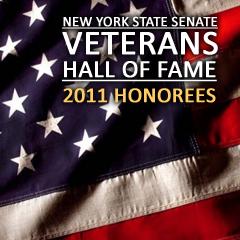 Award: Veterans' Hall of Fame
George W. Egan was born and raised in Queens Village (Queens County) New York.
Mr. Egan enlisted in the U.S. Navy Reserve in 1963. He completed basic training in Fort Dix, New Jersey, and advanced armor training in Fort Knox, Kentucky. He was assigned as M.O.S. 11E20 Armored Vehicle Crewman.
He was assigned to BCA/1st BN 15th Armor 1st Cavalry Division (DMZ) Korea January 1964 – January 1965. Assigned to CO. 4th BN 68th Armor 82nd ABN Division Fort Bragg, North Carolina from January 1965 – July 1965, when his unit was deactivated. He was then assigned to Medical Co., Womack Army Hospital, also at Fort Bragg. Separated from active service on August 26, 1966 with new M.O.S. 76J 20 Medical Supply Specialist, Rank Specialist 4-E-4.
Mr. Egan enlisted in the New York Army National Guard May 1, 1990. He was assigned HHC Aviation Brigade 42nd Inf. Division located in Patchogue, NY. In 1990 he was named "Brigade Soldier of the Year". In 1997 he was promoted to sergeant – E5; Medical Treatment NCO and Section Chief MOS 91B 20. In 1998 he transferred to U.S. Army Reserve, Individual Ready Reserve. On October 26, 2004 Mr. Egan concluded his military career with an Honorable Discharge from the US Army Reserve.
Mr. Egan is very active in veterans service organizations. From 2006-2008 he served as VFW Commander of Jayne-Lattin Post 2913. While Commander of the VFW Post they were awarded "The National Community Service Award" for their "Balls for Bagdad" Program. At the request of an Army Chaplain, the Post along with Cavanaugh's Restaurant collected thousands of golf balls, hundreds of golf clubs and golf bags for shipment to Camp Liberty,. These were used as a form of stress relief for troops returning from the field.
His military service awards include: Army Achievement Medal, Army Good Conduct Medal, Army Reserve
Achievement Medal (1 oak leaf), National Defense Service Medal (1 bronze star), Korean Defense Service Medal, P.L.D.C. Ribbon, Army Service Ribbon, Army Overseas Service Ribbon. His New York State decorations include: Long and Faithful Service Ribbon (5 years), Aid to Civil Authority Medal (3 Shields), Medal of Merit (Korea service), NYS Humanitarian Service Medal.
Mr. Egan has been married to his wife, MaryAnn for 43 years. They have three children and 8 grandchildren.