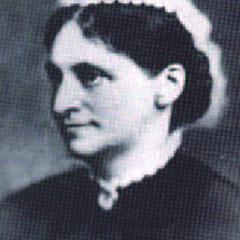 2011 Inductee: Linda Richards
Award: 2011 Women of Distinction
A native of Potsdam, Linda Richards became the fi rst professionally trained American nurse. Credited with establishing nurse training programs in the United States and Japan, she is also recognized for creating the fi rst system for keeping individual medical records for hospitalized patients. The system she created was widely used in the United States, as well as in England where it was adopted by St. Thomas's Hospital, the institution founded by Florence Nightingale.
The deaths of her parents from tuberculosis and her husband from Civil War battle wounds provided the young Ms. Richards with the opportunity to see fi rst-hand the ravages of human suff ering. Inspired by these personal losses, she moved to Boston to become a nurse. She was one of fi ve women to sign up for a nurse-training program at the New England Hospital for Women and Children, and she was the program's fi rst graduate in 1873.
After working in Bellevue Hospital in New York City, Ms. Richards returned to Boston in 1874, where she was named superintendent of the Boston Training School. Under her guidance and managerial acumen, she was able to turn the program around, and it became regarded as one of the best nursing programs in the country. Ms. Richards traveled to England to participate in an intensive nurse training program. She studied at St. Thomas's Hospital in London, where she was able to spend time with Florence Nightingale, who is widely
regarded as the founder of modern nursing. At Nightingale's suggestion, Ms. Richards studied at King's College Hospital and the Edinburgh Royal Infi rmary in Scotland.
Ms. Richards returned to America in 1878 to help set up a training school at Boston City Hospital. Named matron of the hospital and superintendent of the school, she stayed there until 1885. Later that year, she traveled to Japan to help establish that country's fi rst nurse-training program. Ms. Richards supervised the school at Doshisha Hospital in Kyoto for fi ve years before returning to the United States.
Ms. Richards worked in the fi eld of nursing for another 20 years, establishing and directing nurse-training programs in Philadelphia, Massachusetts, and Michigan. Ms. Richards retired in 1911 to write her autobiography, Reminiscences of Linda Richards. Following a severe stroke in 1923, she returned to the New England Hospital for Women and Children where she remained until her death on April 16, 1930. Linda Richards was inducted into the National Women's Hall of Fame in 1994