Wilbur Weder Named to 2013 New York State Senate Veterans' Hall of Fame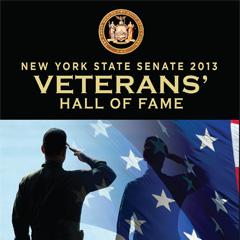 Award: Honoring Our Veterans
Wilbur (Will) Weder served in the U.S. Army from 10 February 1965 through 9 February 1967 at which time he was honorably discharged with the rank of Specialist E-4. He was drafted into the Army and received Basic Training at Fort Leonard Wood in Missouri. He was trained as an electronics repairman for the Nike-Hercules Missile Systems at Redstone Arsenal in Alabama. After graduation, Will was sent to South Korea for 13 months to support the Nike-Hercules missile systems located there. After his service in South Korea, Will served the remainder of his time at Redstone Arsenal in Alabama. While in the Army, he received the Marksman (Rifl e) medal, the National Defense Service Medal and the Good Conduct Medal. Will was the Honor Graduate of his class at the United States Army Ordnance Guided Missile School, Redstone Arsenal, Alabama, July 23, 1965.
Will is an out, openly gay man who has worked to make a difference for veterans and residents of New York City. Since moving to New York City in late 1995, he has been active in various volunteer organizations, especially in health care and related fields.
Will testified before the VA CARES Commission opposing the closing of the VA Hospital at First Avenue and 23rd Street in Manhattan. He worked closely with Congresswoman Carolyn B. Maloney and other elected officials to ensure that the VA Hospital was not sold or closed. He has also worked with other veterans urging the Mayor of New York City and the City Council to do more to help veterans living in New York City.
Will served for nine years on Community Board 2, Manhattan (1998-2007) and is currently a member of Community Board 6, Manhattan where he is Vice-Chair of the Health, Seniors and Disability Issues Committee. Concurrent with his time on Community Board 2, Will served on the Bellevue Hospital Center Community Advisory Board (BHC-CAB) and was Chair of the BHC-CAB for four of those years. Will is currently First Vice-President of the Auxiliary to Bellevue Hospital Center and a member of the Finance Committee and the
Governance Committee.
Will received a City Council Citation from Council Member and Speaker Peter F. Vallone on June 26, 2001 and a City Council Citation from Council Member Christine Quinn on May 28, 2003. He received the Marjorie Matthews Community Advocate Award from the Health and Hospitals Corporation on July 12, 2005. On March 15, 2013 Will was honored by the United Hospital Fund as Auxilian of the Year for Bellevue Hospital Center.
Will received a BA in Sociology in 1964 from the University of Illinois, Urbana, Illinois and a Masters Degree in Social Work (MASW) from the University of Chicago, School of Social Service Administration, Chicago, Illinois in 1970.