Donald Linborg and Carmen Pascarella, Jr.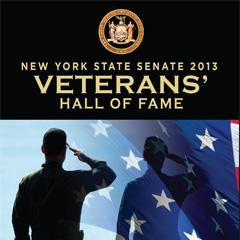 Donald Linborg and Carmen Pascarella, Jr.
Award: Supporting New York's Heroes
Donald "Don" Linborg joined the United States Army in 1959 and attended basic training at Fort Dix, NJ. Don served as an Intelligence Clerk with the S-2 Headquarters VII Corps Artillery. He was chosen to attend the United States Army Intelligence School in Oberammergua, Germany, where he became a photo interpreter and map coordinator. After two years in Germany, Don returned to the United States, where he was assigned to the Army R&D Laboratory in Belmar, NJ, tasked with developing top secret projects such as Side Looking Airborne Radar (SLAR) and infrared photography. Don served in the Army for a little more than three years and was awarded the Good Conduct Medal, National Defense Medal, Department of Defense Cold War Victory Medal and the New York State Liberty Medal. 
Carmen "Carm" Pascarella, Jr. was drafted into the United States Army in 1954, one year after graduating from high school. Carm served with the 594th Field Battalion in Giessen, Germany, specializing in the operation of the 155 mm howitzer - at the time, one of the Army's largest pieces of artillery. He served two years in the United States Army and was awarded the Good Conduct Medal. 
Both Don and Carm played instrumental roles working alongside Senator Mike Nozzolio in helping to turn the former Sampson Naval Training Station and Sampson Air Force Base into the Sampson Veterans Memorial Cemetery - now one of the most historically significant military sites in the Finger Lakes region. Located on the edge of Seneca Lake, the Sampson Veterans Memorial Cemetery was officially dedicated in July 2011, and is now the final resting place for more than 100 veterans and their families. 
Don currently lives in Macedon with his wife, Mary. They have two sons and four granddaughters.
Carm currently lives in North Rose with his wife, Margaret. They have two children and two grandchildren.