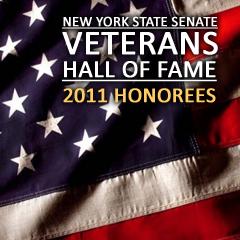 Award: Veterans' Hall of Fame
Ronald J. Pilozzi served as a Commissioned Second Lieutenant in the United States Army from 1970 to 1972. During that time, Ron served as an Artillery Officer with the 101st Airborne Division in Vietnam and then as an Executive Officer of the 81st Artillery in West Germany. For his service and dedication to his country, Ron received the Purple Heart, Bronze Star with "V" Device, Vietnam Campaign Metal with "V" Device, Air Metal, National Defense Service Metal and Vietnam Service Metal awards.
Ron's gallantry in the U.S. Armed Forces is complemented by his service to his community. As the President of the Town of Tonawanda Development Corporation, Ron helped to establish a Childcare Consortium and worked with the State Department of Environmental Conservation and City of Tonawanda to demolish and remediate the Spaulding Fibre site. Additionally, Ron was elected to four consecutive terms as 3rd Ward Councilmember for the City of Tonawanda and currently serves as the Mayor for the city, a post he has held since 2006.
Ron retired as a member of management at the Tonawanda General Motors Engine Plant, holding positions in Quality Control, Industrial Engineering and Personnel Departments for over 30 years. He and his wife, Christine, live in the city of Tonawanda.