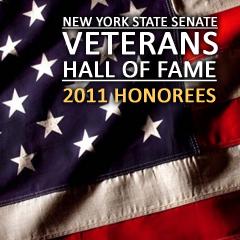 Award: Veterans' Hall of Fame
Corporal Mark P. O'Brien served two distinguished tours of duty as a United States Marine, the latter of which was during arguably the most dangerous period of Operation Iraqi Freedom. Since returning to civilian life, Corporal O'Brien's actions and attitude off the battlefield continue to make his family, friends, community, country, and corps proud.
Corporal O'Brien first joined the Marines in 2001. At that time, he was working towards a degree in criminal justice to possibly pursue a future career in law enforcement, like other members of his family.
During his second tour in November of 2004, while conducting a weapons sweep through a city in Iraq that was geographically located within a particularly hostile area known as the "Triangle", Corporal O'Brien was struck by a rocket propelled grenade. The injuries sustained forced the amputation of one of his arms and one of his legs.
After treatment abroad and at military hospitals stateside, Corporal O'Brien returned home, where he married and started a young family. He also began his new career as an emergency dispatcher for the Erie County Sheriff's Office, continuing to protect and serve the public.  
For his distinguished service to the United States, Corporal O'Brien, has been awarded the Navy Achievement Medal, the Navy Accommodation Medal, the Global War on Terrorism Service Medal, and the Global War on Terrorism Expeditionary Medal, among other decorations.
He and his wife Michelle live in Marilla, with their two young children, Jack and Nathan.