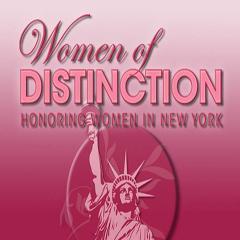 Award: HONORING WOMEN IN NEW YORK
Roselyn A. Johnson has been an employee of the Bronx Supreme Court for the past 16 years, serving as confidential secretary to three administrative judges. Recently, she was elevated to administrative aide and feels great fulfillment in her current position. Prior to her employment in the court system, Ms. Johnson was employed by the New York City Board of Education in Community School District Twelve for 23 years as an executive secretary to the Community Superintendent of Schools.
An active member of the 48th Precinct Community Council for over 20 years, Ms. Johnson was elected to the NYS Judicial Delegation in 1980 and was later elected as a NYS committee member for the 76th Assembly District. She earned her second Honorable title after being elected as a school board member in Community School District 12 where she served as treasurer and chairperson for special projects. In addition, Ms. Johnson was the New York City Liaison for Phipps/West Farms Beacon School Advisory Board which, in her opinion, was one of the most viable programs ever in her area.
A tireless advocate for her community, Ms. Johnson's involvement in various groups enabled her to organize many outreach programs throughout the 23 schools that are located in Community School District 12, as well as to volunteer for the West Farms Library, where she organized many activities for children and adults.
Ms. Johnson is the recipient of many awards from the City Council, the Office of the Governor, the U.S. Senate, the NYC Board of Education, the New York State Assembly, the Office of the Bronx Borough President, Community Board #6, the New York State Democratic Committee, New York State Black Republicans, as well as several other awards from churches and community organizations. In 2004, she was nominated to receive the 2004 Pacesetter Award from the New York City Council in recognition of Women's History Month. 
A former student of Malcolm King College and Fordham University, Ms. Johnson is a single parent of two sons who have made her extremely proud. She was often told that she would not be able to raise her sons alone, but she did. Ms. Johnson often states that if no one appreciates her but the children whose lives she has touched, then she is fulfilled and feels that these are her greatest rewards.