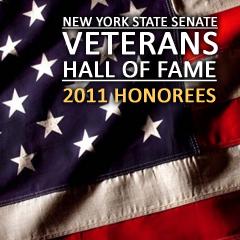 Sergeant William Capodanno
Award: Veterans' Hall of Fame
Sergeant William "Bill" Capodanno is a World War II, U.S. Army combat veteran who served in the Pacific Theater from January 1941 to January 1946.  He is the recipient of the American Defense Service Medal, the Asiatic-Pacific Campaign Medal and the World War II Victory Medal. 
Bill has been an active member of the VFW for 65 years, and a resident of Larchmont since 1952.  He owned and operated a local roofing business, Village Roofing, in the community for many years.  Bill served as the commander of VFW Post 1156 for 15 out of the more than 50 years that he has been a member of that post, and has held various other offices in VFW Post 1156 for many years.  He also held numerous VFW County and NYS positions over the last 65 years. 
Bill is a beloved figure in the Village of Larchmont and throughout Westchester, who has distinguished himself in service to both veterans and his community.  He has participated in countless Veterans Day and Memorial Day ceremonies, and conducted innumerable Memorial Day cemetery visitations.  He has also reached beyond the Sound Shore community.  Under Bill's leadership, VFW Post 1156 has hosted both a holiday party in December and a picnic in August for veterans from the Montrose VA Hospital for 58 consecutive years.  Bill was also an active member of the Town of Mamaroneck Fire Department for over 40 years.