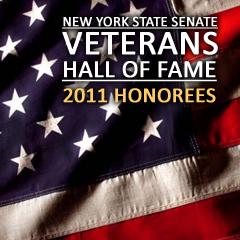 Award: Veterans' Hall of Fame
Philip C. Smith was drafted into service in the United States Army in 1951, attending leadership school at Fort Dix, and OCS and jump training at Fort Benning, returning to Fort Dix with his new bride upon completion. He was then off to Korea as 2nd Lt. with Company G 15th regiment in the 3rd infantry from January to July of 1953.
    
Phil was a diligent and courageous soldier and proved that in battle.  He participated in the week-long battle for Outpost Harry and was awarded the Combat Infantry Badge and the Silver Star for Valor in the successful defense of the Outpost.
    
Upon his return from Korea, he served in the Army Reserves for several years, reaching the rank of Captain.  He probably would have made the Army his career but duty of another kind called him home to serve with his father in the family business, Smith's IGA.  For 38 years Phil and his wife Judy successfully ran the business until it was destroyed by fire in 1991.
    
In addition to running the family business, Phil served on the Odessa-Montour School Board, was elected to the Schuyler County Legislature, serving 23 years with 7 as chairman. He has remained active in the VFW, American Legion and AM Vets. In 1995, Governor George Pataki awarded Phil the NYS Conspicuous Service Award.
    
Since 1997, Phil has served as director of Veteran Services in Schuyler County, connecting veterans with the services available to them. He volunteers his time to drive vets to appointments and willingly shares his wisdom and compassion to help those who served their country.
    
Philip C. Smith proudly dedicated his life to family, community and country. This is clearly evidenced in all that he has done and for these reasons he is recognized and worthy of the NYS Veteran Hall of Fame.