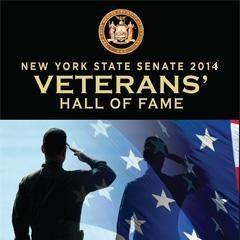 Staff Sergeant J. Donald Griffin
Award: Honoring Our Veterans
Staff Sergeant J. Donald Griffin served his country during World War II as a ball turret gunner with the United States Air Force. During his tour, Mr. Griffin's aircraft was shot down by enemy fire; he parachuted to the ground and spent one and a half years as a prisoner of war.
For his extraordinary sacrifice and service to the United States, Mr. Griffin was awarded an Air Medal, Prisoner of War Medal and the Victory Medal.
Staff Sergeant Griffin has continued to serve his community as a loyal member of the Kensington American Legion Post 708 for more than 70 years. He previously served as Commander of the Erie County American Legion. Staff Sergeant Griffin finds great importance in honoring this great nation and educating our children by giving talks to local schools about World War II and promoting respect for the American Flag.
For his commitment to his community and his service to our great country, in 2014, Mr. Griffin was awarded the American Legion New York State Department Commander's Award of Excellence.