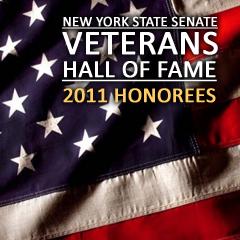 Award: Veterans' Hall of Fame
Sandra Jablonski Bourque was born in Buffalo, New York. She graduated from the State University of New York at Buffalo in 2003 with a Bachelor's Degree in Sociology. After working in the mental health field, Sandra enlisted in the Army in August of 2006, and went to Fort Jackson, South Carolina for Basic Training.
After completion of Basic Training, Sandra went to Fort Lee, Virginia for Advanced Individual Training where she was selected as the Distinguished Honor Graduate in her class. Following AIT, Sandra went to Fort Benning, Georgia for training as a paratrooper. She was one of 15 women in a class of 400 soldiers. After she earned her parachutist badge, Sandra went to Fort Bragg, North Carolina and served as a Specialist in the 82nd Airborne Division, 407th Brigade Support Battalion, 2nd Brigade Combat Team. Upon arrival at Fort Bragg, Sandra's unit, Headquarters and Headquarters Company (HHC), was deployed to Iraq.
As soon as transport was available, Sandra went to Camp Taji in Iraq and was stationed there from June 2007- April 2008. Her Military Operations Specialty was supply, but she volunteered to go out on night missions with the Protective Service Detail Team to work on projects in Sadr City and to monitor insurgent activity.
After returning to Fort Bragg from Iraq, Sandra was promoted to Sergeant and was then honorably discharged in September, 2009. She received the Good Conduct Medal, the Iraqi Campaign Medal with campaign star, the Global War on Terrorism Medal, Army Achievement Medal, National Defense Service Medal and the Army Commendation Medal.
Sandra is currently employed as a Management and Program Assistant with the federal government's Department of Homeland Security, U.S. Citizenship and Immigration Services in Buffalo, New York. She volunteered as a mentor for the Veterans Treatment Court in Buffalo prior to being hired by the federal government. Sandra met her husband, Jason, while stationed in Iraq and they now reside in Depew, New York with their 2 year old son. Jason continues to serve in the Army Reserve.