Avella Honored P.S. 221 with a State Resolution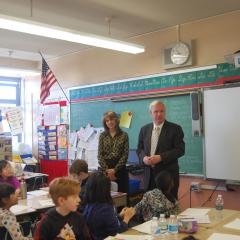 Award: National Blue Ribbon School
Avella Honored P.S. 221 with a State Resolution
(BAYSIDE, Queens) On Friday, February 28th, Senator Tony Avella presented a State Senate Resolution to Public School 221 of Little Neck, Queens upon the occasion of its designation as a National Blue Ribbon School.
P.S. 221 has continually proven an impressive dedication and commitment to the quality of its educational programs and opportunities offered to the students.  Senator Avella is honored to celebrate such a high achievement and is extremely proud of the faculty and staff who work tirelessly to make P.S. 221 one of the best schools in the country.
After the presentation, Avella stopped in for a quick Q & A session with P.S. 221's students.