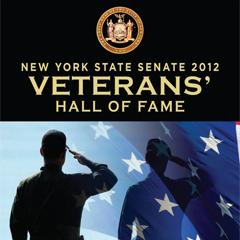 Award: Honoring Our Veterans
Joseph Farina graduated from Newburgh Free Academy in 1939. After graduation, he joined the 156th Field Artillery, New York National Guard. His unit was called into Federal Service on September 16, 1940 and stationed at Fort Dix, New Jersey. While serving in the military he attended the U.S. Army Morse Code School. When war was declared on December 7, 1941, he volunteered to go overseas and was transferred to Jackson Barracks in New Orleans to await assignment. As a high-speed Morse Code operator, he was assigned to a secret mission in the Philippine Islands.
He was then reassigned to the Southwest Pacific Theatre of Operations under the command of General MacArthur. His initial assignment in New Guinea was as radio operator at General MacArthur's Advanced Headquarters. He remained involved in the New Guinea campaigns for well over a year. He was then assigned to Biak Island and then on to Leyte and Luzon in the Philippine Islands. He attained the rank of Sergeant and served with honor and distinction in the Southwest Pacific and the Philippine Islands in World War II. He received numerous decorations including four battle stars and two Presidential Citations. 
Joe twice served as Post Commander of Catholic War Veterans Post 386 and is a member of the 156th Field Artillery Association in Kingston. He is the recipient of the Walter T. Kunowski award for Americanism, the Nicholas Brooks Memorial Award from the Town of New Windsor, and the Zeal Award from Catholic War Veterans Department of New York. He was also instrumental in establishing the National Purple Heart Hall of Honor.