The Fracking Future: Hundreds attend hearing on controversial drilling process
"Ban Fracking Now" was the rallying cry for about a dozen downstate lawmakers before a Nov. 30 hearing on the drilling procedure, held at the Tribeca Performing Arts Center, though a few acknowledged the long odds in pressuring Governor Andrew Cuomo to keep the industry out of the state.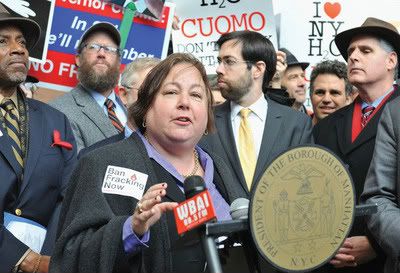 Hundreds of citizens turned out for the last of four hearings on whether to lift the current ban on hydraulic fracturing. Politicians like Senator Liz Krueger and Assembly Member Brian Kavanagh and even a few celebrities, like actors Debra Winger and Mark Ruffalo, joined a protest outside of the venue an hour before the start of the hearing.
While this method of drilling could extract natural gas in the portion of the upstate Marcellus Formation, comprised of sedimentary rock, critics say the process could contaminate the water supply for millions of individuals including New York City residents.
"Hydraulic fracturing is a process by which millions of gallons of water and fracturing fluids are pumped into horizontal wells to access natural gas in mineral formations. Some of the chemicals that are used are toxic, long-lasting and largely untested, and are difficult or impossible to remove once they enter the natural environment. We simply do not know how the many chemicals used in hydrofracking will impact our long-term health and our environment," explained Sen. Squadron at the NYS Department of Environmental Conservation hearing.
"[W]e have had opportunities to monitor this type of gas drilling in other states and the results have not been encouraging. The potential for leaks, spills, contaminations and explosions to poison New York City's unfiltered drinking water supply have not yet been adequately mitigated by the drilling industry. The litany of recent incidents at drilling sites in Pennsylvania speaks for themselves," Manhattan Borough President Scott Stringer adding during his testimony. "At this time I cannot endorse the use of horizontal hydraulic fracturing anywhere in New York State until it can be proven to be completely safe. And I certainly cannot support the use of horizontal hydraulic fracturing anywhere near New York City's drinking water infrastructure."
"This crowd here, would we have liked to have seen a ban on hydrofracking? Yes," said New York State Senator David Carlucci, whose hydraulic fracturing moratorium bill failed to pass. "We know, under the current circumstances, it doesn't look like that's going to happen." He said that he'll continue to push for adequate regulatory resources and public health protections, and to make sure many of the new industry jobs expected are local. Other lawmakers also voiced their disapproval with fracking. "I don't think its safe for New York at this time," Assemblywoman Linda Rosenthal said. "What we've seen is that contaminates  water supplies, damages the air and causes undiagnosable diseases in children and adults."
The comment period on the fracking regulations was previously delayed through Dec. 12, but has now been extended through Jan. 11, 2012.
—By Staff, with additional reporting by Jon Lentz of City Hall