'61st District Small Business of the Month' Nomination Form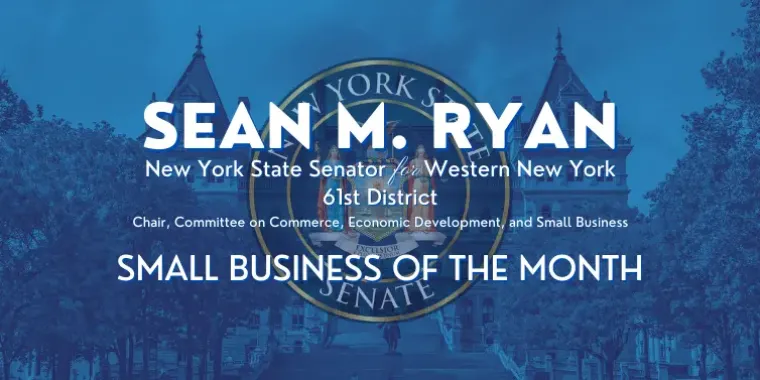 Do you know a small business in the 61st State Senate District that deserves special recognition?
Senator Ryan is looking for small businesses that deserve recognition for their work in the Western New York community. If there is a business in New York's 61st District that you believe deserves special recognition, fill out the form below to nominate the business for a Small Business of the Month Award.
To be eligible for the award, a business must be located in the 61st Senate District, which includes parts of the City of Buffalo, as well as the entireties of the City of Tonawanda, the Towns of Amherst, Grand Island, and Tonawanda, and the Villages of Kenmore and Williamsville. To confirm whether a business is located in the 61st District, visit nysenate.gov/find-my-senator and enter its address.
Businesses that will receive special consideration during the selection process include:
Companies that have created a culture of philanthropy and/or demonstrated exceptional leadership in the community
Leaders in their industry and/or an innovators in their field
Promoters of economic growth in Western New York
Family-owned businesses that have successfully passed from one generation to another
Companies that conduct virtuous ethical practices and/or utilize green practices
Senator Ryan will present each honoree with a New York State Empire Award commemorating the honor. Winners will also receive special recognition on Senator Ryan's website and social media channels.
Previous Winners
February: Gino's NY Pizza
March: Revolution Buffalo
April: Salon in the City Suites
May: Campus WheelWorks
June: Parkinson's Boxing
July: Gondola Macaroni Products
August: Alford's Angels
September: Fowler's Chocolates and Watson's Chocolate's