Free Film Screening of Making a Killing: Guns, Greed, and The NRA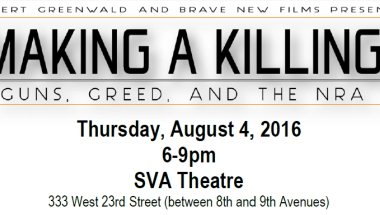 SVA Theatre
333 West 23rd Street (between 8th and 9th Avenues)
New York, NY
How can you help defeat the National Rifle Association? Come to our FREE film screening of Making a Killing: Guns, Greed, and the NRA, followed by an expert panel discussion, this Thursday, August 4, 6-9pm,SVA Theatre, 333 West 23rd Street (between 8th & 9th Aves). Reserve your seat by contacting 212-633-8052 hoylman@nysenate.gov!
I am sponsoring the event along with New York City Comptroller Scott M. Stringer, Public Advocate Letitia James, Congressman Jerry Nadler, Congresswoman Carolyn Maloney, Manhattan Borough President Gale A. Brewer, Assembly Members Deborah J. Glick, Brian Kavanagh, Richard N. Gottfried, Linda B. Rosenthal, and Dan Quart, Council Members Margaret Chin, Dan Garodnick, Corey Johnson, Rosie Mendez, and Helen Rosenthal, as well as Manhattan Community Board 2, and Manhattan Community Board 5.
Following the screening we will be joined by a panel of experts including New York State Assemblymember Brian Kavanagh, Leah Gunn Barrett of New Yorkers Against Gun Violence, John Grauwiler of Gays Against Guns, and Erika Soto Lamb of Everytown for Gun Safety who will lead a discussion about how we can take action to minimize gun violence.
Senator has new policy idea

Idea is drafted into a Bill

Bill undergoes committee process

Senate and Assembly pass bill

Bill is signed by Governor