Mobile Legal Help Clinic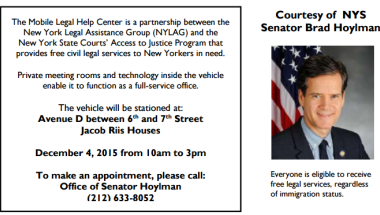 Jacob Riis Houses
Avenue D Between 6th and 7th Street
New York, NY
Dear Friend:
I am proud to announce that on Friday, December 4, between 10:00 am and 3:00 pm, at the Jacob Riis Houses on Avenue D between 8th and 9th streets, I will be co-sponsoring along with Comptroller Scott Stringer, Borough President Gale Brewer, State Senator Daniel Squadron, Assemblymember Brian Kavanagh, Councilmember Rosie Mendez, and Community Board 3, a Legal Help Van Event.
We are partnering with the New York Legal Assistance Group (NYLAG) and the New York State Courts' Access to Justice Program to provide free civil legal services to New Yorkers in need. The van will include private meeting rooms and staff will be on-hand to provide free legal assistance on issues related to: 
Housing 
Public Benefits 
Disability Benefits 
Healthcare Benefits
Identity Theft 
Debt Management 
Immigration
Domestic Violence
Divorce & Custody
Employment
Advance Planning
Consumer Credit.
For more information on this event please see here.
If you would like to attend please RSVP to hoylman@nysenate.gov or by calling 212-633-8052. Hope to see you there!
Senator has new policy idea

Idea is drafted into a Bill

Bill undergoes committee process

Senate and Assembly pass bill

Bill is signed by Governor