The Universal Child Care Act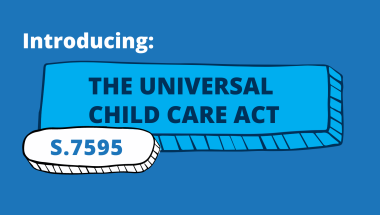 New York's child care industry is in a state of crisis. 

Many child care centers have already been forced to close, and parents are desperately struggling to access the child care they need. Where child care is still available, it is largely due to a child care workforce so dramatically underpaid that the majority live in poverty. This is not only a cruel system, it is also a dangerously unsustainable foundation for our entire economy. 

That's why, back in September, Senator Brisport announced his plan to craft Universal Child Care legislation by touring the state to gather input from parents and child care providers. In partnership with the Alliance for Quality Education, the tour visited dozens of child care facilities and hosted 10 community conversations with a total of over a thousand participants. Together they've assembled this detailed report on the findings of that tour.

On December 15th, 2021, Senator Brisport announced that he has introduced the Universal Child Care Act to the New York State Senate. 

Assemblymembers Andrew Hevesi (Chair of the Assembly Committee on Children and Families) and Michaelle Solages (Assembly Deputy Majority Leader & Chair of The New York State Black, Puerto Rican, Hispanic and Asian Legislative Caucus) will sponsor the Universal Child Care Act in the New York Assembly.
Senator has new policy idea

Idea is drafted into a Bill

Bill undergoes committee process

Senate and Assembly pass bill

Bill is signed by Governor