Testimony, Photos and Video from the Senate Health Committee Hearing on Food Policy in New York State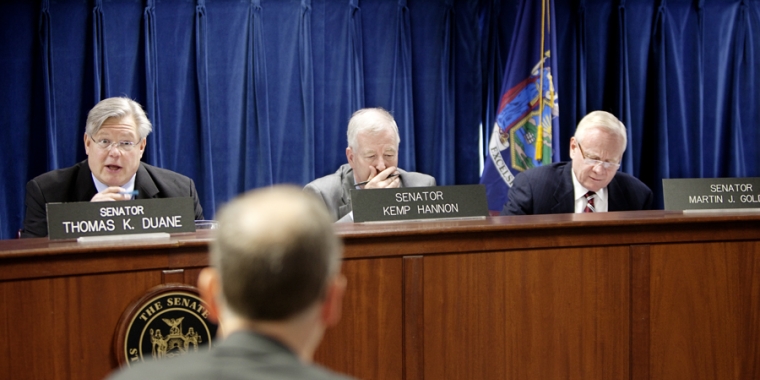 On Friday, January 22, Senator Thomas K. Duane held a public hearing of the Senate Health Committee on the topic of Food Policy in New York State.  Senator Duane was joined by at the hearing, held in New York City, by Health Committee ranking member Kemp Hannon and Senator Martin Golden.
The hearing brought together representatives from health care industry and public health experts, and the food and beverage industries as well as consumers and hunger advocates to receive input and listen to feedback on three policy approaches to combating obesity in New York State:
(1)  Calorie Labeling (S6438) would require chain restaurants to post the caloric value of all items on their menus;
(2)  A Trans Fat Ban (S6437) would prohibit restaurants from utilizing any  artificial trans fats in the preparation or cooking of any food item and from serving any food containing artificial trans fats;
(3)  A Sweetened Beverage Excise (S6644) would impose an excise on sweetened beverage manufacturers. 
The goal of these three bills is to raise awareness about the importance of diet and the link to obesity, to reduce the intake of calories, trans fats, and sweetened beverages, and to improve the health of New Yorkers.
To view video of this hearing, please tune in at 5:00 PM on Wednesday, February 3, to any 5 of the channels listed in the cable stations document enclosed below.
To view individual submitted testimonies, please see below:
Richard Daines: New York State
Julie Greenstein: Center for Science in the Public Interest
Elizabeth Whelan: American Council on Science and Health
Michael Rosen: Food Industry Alliance of New York
Nelson Eusebio: National Supermarket Association
Ramon Murphy:The Bodega Association of the United States
Marcus Ferguson: Business Council of NY State
Melissa Fleischut: NYS Restaurant Association
Mark Krotowski: NYS Academy of Family Physicians
Kris Kim: American Cancer Society
Laurie Tansman: Mt. Sinai Medical Center
Wahida Karmally: American Diabetes Association
Robin Vitale: American Heart Association
Joan Siegel: Citizens' Committee for Children of NY
Nancy Huehnergarth: NYS Healthy Eating and Physical Activity Alliance
Jim McGreevy: American Beverage Association
Kevin Dietly: Northbridge Environmental Management Consultants
Mark Dunlea: Hunger Action Network
Joel Berg: New York City Coalition Against Hunger
Triada Stampas: Food Bank for New York City
NYC Food and Fitness Partnership
Maggie Meehan: NY State Dietetic Association
Audrae Erickson Corn Refiners Association
Chirag Raval: Colin Powell Center for Policy Studies.pdf
Deborah Lewison-Grant: Food Fight
James Calvin: NY Association of Convenience Stores
Joann Casado: The Bronx Health Link
John O'Neil: Teamsters Joint Council 16
James Calvin: NYAssociation of Convenience Stores
Abraham Jelin American Academy of Pediatrics
Ana Garcia: The New York Academy of Medicine
Michael Seserman: New York State Public Health Association
James Knickman: New York State Health Foundation
CUNY Institute for Health Equity