Senate Republican Majority Plan for Agriculture and Jobs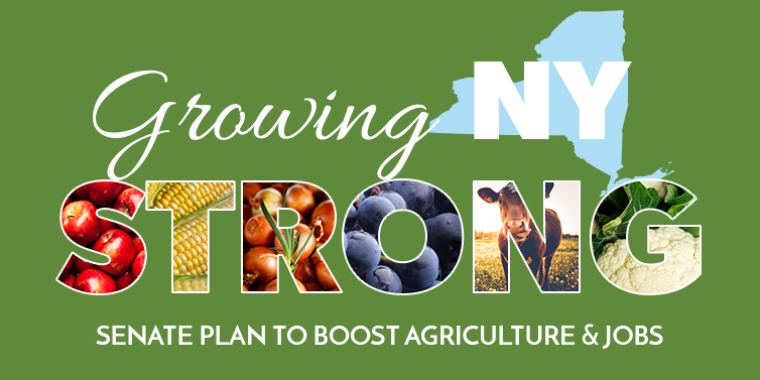 Nearly a quarter of the state is covered in farms—our 7 million acres is more farmland than in all the New England states and New Jersey combined. And with more than 100,000 New Yorkers working on farms (in addition to hundreds of thousands employed in affiliated jobs, like food processing, packaging, trucking and distribution), agriculture is among the state's largest employment engines. New York farmers also are leading producers of a wide range of products found in consumers' pantries and on tables around the world. And the potential for growing New York's leading industry is limitless.
The Senate's Republican Majority has been proud to support New York's family farmers and once again will be leading the conversation about the importance of agriculture to our economy, good health and future growth. "Growing Strong" is the Senate Majority's 2018 agenda for strengthening farm families, increasing opportunity and creating new jobs on the farm with proposals to:
Expand markets
Reduce production costs
Invest in growing New York's leading industry
CONTINUING HISTORIC SUPPORT FOR GROWING NY AGRICULTURE
Since 2011, Republican Senate Majority-led efforts restored budget cuts, provided increased funding and created new initiatives that are helping farmers achieve new heights in production and efficiency. Budget restorations and new funding have totaled more than $50 million since 2011, and set records three years in a row.
Please view the full document below.
SENATE REPUBLICAN MAJORITY PLAN FOR AGRICULTURE AND JOBS by New York Senate on Scribd