Important LIRR Commuter Update: Express Trains Have Been Saved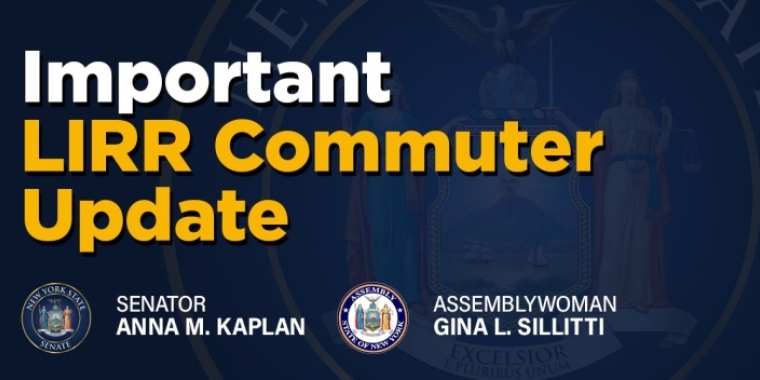 Dear Neighbor,
Over the summer, we told you about the MTA's proposed elimination of express train service to Penn Station on the Port Washington Branch of the Long Island Railroad. We asked you to get involved by filling out our survey and making your voice heard at a public hearing. And boy did you!
Thousands of our neighbors responded to our survey and spoke out to MTA leadership over the course of several public hearings. And we're proud to share with you that the MTA has heard all of our concerns, and taken action to address them.
Today, Interim Long Island Rail Road President Catherine Rinaldi came to Port Washington to stand with us and announce that when new schedules take effect this year with the opening of Grand Central Madison, they will include three morning and three evening rush hour express trains serving Penn Station instead of the zero that were originally proposed. These trains will be in addition to the new service travelling to Grand Central Madison during rush hour.
We applaud the MTA and the LIRR for hearing our concerns and restoring 3 out of the 4 morning and evening express trains to Penn Station that we asked for, but there is still more to be done to ensure our communities get the level of service we need and deserve.
What's next in the fight for more express train service?
In order to further expand service capacity on the Port Washington line, the MTA and the Town of North Hempstead must find a path forward to expand rail yard infrastructure at the Port Washington station. We're committed to doing everything we can to support this project and find the funding needed to complete it, we just need to get this long-overdue initiative over the finish line.
What if ridership patterns change with more people returning to work and the opening of Grand Central Madison?
The MTA will be closely monitoring ridership patterns and capacity issues on an ongoing basis and adjustments may be necessary. We will be following the implementation of these timetables closely, and urge you to contact us if you experience issues.
What's the bottom line here?
While there is still work to be done, we've come a long way, and it's thanks to you making your voice heard -- thank you. We're going to keep up the fight to make sure our infrastructure gets the investment we need, so you can enjoy the service you expect on the trains.
In the meantime, you can always reach out to our offices for assistance with this or any other matter. Senator Kaplan can be reached at 516-746-5924 and Assemblywoman Sillitti can be reached at 516-482-6966.
Sincerely,
Anna M. Kaplan                                              Gina L. Sillitti
New York State Senator                              NYS Assemblywoman
7th Senate District                                          16th Assembly District