Senate Passes Rockefeller Drug Law Reforms and Invests in Community Safety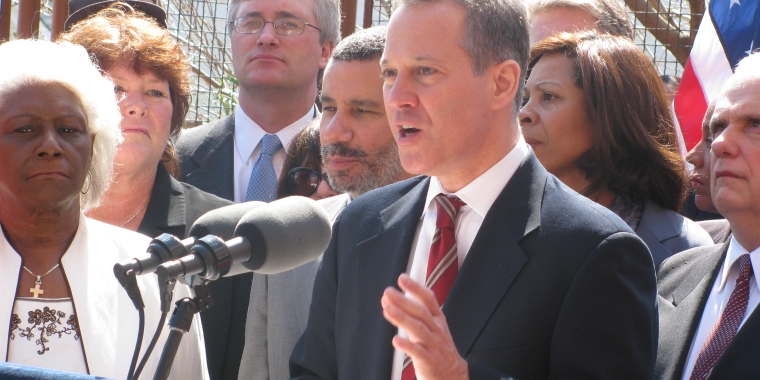 (Albany, NY) – The State Senate passed the FY2009-10 public protection budget today that includes many important reforms that will help our state and its public safety officers meet 21st Century needs. Most significant among these changes  is the historic reform of the archaic, costly and ineffective Rockefeller Drug Laws. Among the reforms are a new commitment to drug treatment and the strengthening of penalties for drug kingpins and those who prey on children.
 
Despite grappling with the greatest budget deficit since the Great Depression, the Senate, Governor and Assembly were able to develop a sensible budget that will help keep communities across the state safe. The highlights include:
An investment in fighting illegal guns and gun violence in communities like Buffalo, Rochester, Albany, Syracuse, Westchester County and New York City.


Renewed support for Civil Legal Services providers, upholding a New York tradition that values access to legal representation to ensure a fair day in court.


Right-sizing underutilized prison facilities.


Rockefeller Drug Law Reform
Passed in 1973, the Rockefeller Drug Laws are a one-size-fits-all punitive approach that has failed to allow for the rehabilitation of non-violent addicted offenders and wasted billions of dollars. As a result, the rate of recidivism is approximately 60 percent, unnecessarily costing taxpayers millions of dollars every year instead of ending the cycle of addiction and helping people return to society as functioning, contributing citizens.
 
 "The United States has only 5% of the world's population, but houses 25% of the world's prisoners-more than 2.4 million individuals incarcerated across the US." said Senator Eric Schneiderman (D-Bronx/Manhattan), Chair of the Senate Codes Committee. "The Rockefeller Drug Laws are just another example of a failed national pattern of under treating and over incarcerating. By expanding the ability of judges to sentence drug-addicted individuals convicted of non-violent drug crimes to treatment, New York State is sending a message that there is a better way."
 
"I certainly feel that the Rockefeller Drug Laws needed to be reformed," said Jefferson County Sheriff John Burns. "After going through the 1960's, politicians felt they had to do something and be tough. But putting these low-level offenders in prison has cost thousands upon thousands of dollars. Law enforcement can now use that money to go after real criminals."
 
Highlights of these reforms:
Judges will have the power to order non-violent drug offenders into drug treatment as an alternative to prison, utilizing highly effective drug courts.


The creation of a new class B felony offense for the sale of drugs to a person under age 17, with a minimum two-year mandatory minimum State prison sentence.


The creation of a new class A-I felony targeted at drug kingpins and drug gangs. This change will require mandatory sentence of up to 25 years to life.


New investments in drug courts and expanded drug treatment.
 
These reforms will save New York hundreds of millions of dollars. Right now there are approximately 12,000 non-violent drug offenders in prison, costing at least $45,000 a year to house each non-violent drug offender. In contrast, one year in a residential drug treatment facility costs approximately $30,000, while outpatient treatment is just $13,000, on average, annually.
 
"The passage of Rockefeller Drug Law reform as part of this year's budget marks the beginning of a new era for New York's sentencing laws," said Senate Majority Leader Malcolm Smith. "Rockefeller Drug Law reform will reverse years of ineffective criminal laws, protect communities and save taxpayers millions of dollars that were wasted on the current policy. With more money going toward treatment instead of costly imprisonment, our state will finally have a smarter policy, giving families a fighting chance in the war on drugs. And I am especially proud of Senators Eric Schneiderman, Ruth Hassell-Thompson and John Sampson, who along with the rest of our colleagues in the Majority, achieved in less than 90 days what couldn't be done in nearly 40 years."
 
Right-Sizing New York's Prisons

By focusing on saving prison resources for high-risk offenders and those most likely to commit violent acts that place our community safety at-risk.
 
Through the closing of three underutilized facilities and various annexes taxpayers will be saved at least $22 million. The Senate fought to ensure that the closure of the three unnecessary minimum-security facilities in Chenango, Saratoga and Franklin Counties, include the development of a facility adaptive re-use plan by October, to protect workers and the economic base of the local communities affected.
 
"Millions of dollars in taxpayer money will be saved when the state right-sizes three  underutilized prisons and nine juvenile facilities," said Senator Ruth Hassell-Thompson (D-Bronx), Chair of the Senate Crime, Victims, Crime and Corrections Committee. "Now, with more money going toward treatment instead of costly imprisonment, our state will finally have a smarter public policy, giving families a fighting chance in the war against drugs."
 
Investing in Community Safety
A Senate-developed initiative, Operation SNUG is a new regional community-based gun violence initiative that uses innovative tactics to steer at-risk New Yorkers away from the culture of violence that traps many youth in urban centers throughout the state. $4 million dollars has been designated to help local programs invest in anti-violence and anti-gang initiatives.
 
"There will be 1,391 new police officers on the streets across the state, thanks to federal stimulus money aimed at protecting our communities from crime," said Senator John Sampson (D-Brooklyn), Chair of the Senate Judiciary Committee. "Communities will be even safer under the new Senate initiative (Operation SNUG), a gun violence reduction program for Buffalo, Rochester, Syracuse, Albany, Westchester County and New York City. SNUG will receive $4 million in funding under the Public Protection in this budget agreement."
 
Other important acts relating to public protection include:


Allocating $17.4 million for Operation IMPACT, a state, federal and local law-enforcement coordination effort that cities across the state use to cut crime.


Dedicating $79 million to help fund the Crime Victims Board to pay for the compensation, counseling and forensic rape examinations of victims.


 Investing $1.2 million in programs that prevent domestic violence or aid the victims of domestic violence.


Securing a new program administered by the Office of Court Administration (OCA) that will phase in a four-year plan to cap the caseload for severely over worked criminal legal service attorneys in New York City.


Increasing the District Attorney Tuition Loan Reimbursement Program to $1.5 million to include indigent legal service attorneys.