THE SUN: Hamburg Collaborates With Senator Mark Grisanti On Town-Wide Recycling Event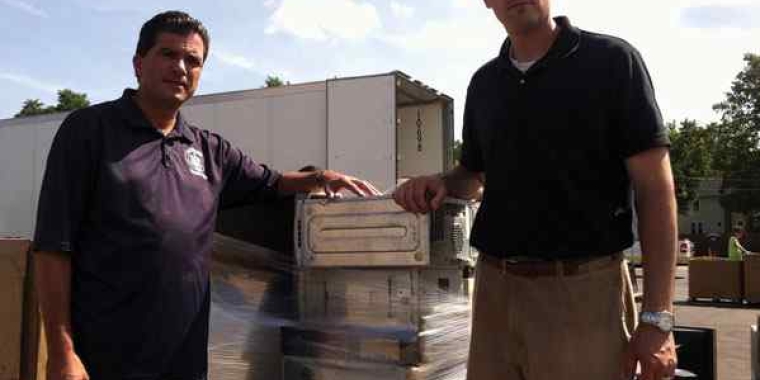 By Steve Dlugosz
HAMBURG — The Hamburg Town Hall parking lot was buzzing with activity early on Aug. 17.
Those present for the event collected used TV sets and other obsolete electronic items that were dropped off as part of the first ever E-waste recycling event in Hamburg.
The collaboration was done as part of an initiative between New York State Sen. Mark Grisanti's office's "Recycle-Reduce-Reuse" and SunnKing Electronics Recycling, with Time Warner Cable.
A similar recycling/collections event has already taken place in Grand Island, with another scheduled for September in Tonawanda.
Hundreds of thousands of pounds of electronics were dropped off last Saturday, by local individuals. SunnKing workers were present to collect the items and load them onto pallets, where they were shrink-wrapped and power-lifted onto SunnKing trailers.
By late morning, two SunnKing trucks had already been filled with items.
Grisanti, Hamburg Town Supervisor Steven Walters and Time Warner representatives were on hand to assist with the unloading of vehicles and to greet local residents.
The wrapped and loaded electronics were slated to eventually be taken in SunnKing trailers to the company's main warehouse in Brockport. It was estimated that at least four truckloads of electronics would be collected by the end of the afternoon, with more than 100 vehicles' passing through, by the early afternoon, to drop off items.
Computer monitors, home telephones, printers, microwaves, fax machines and video game consoles were other miscellaneous electronics collected.
"The best thing we've heard from a lot of people coming by here is when they say, 'We're so glad you're doing this,'" said Grisanti, who serves as the chairman of the state's Environmental Conservation Committee. He added that the event "is getting [items] right out, in an environmentally-correct way."
Grisanti said that incorporating Hamburg in this local initiative was important for establishing a Southtowns-based recycling effort.
The senator added that setting a proper course of electronics disposal, while limiting
accumulation of such items on landfills, was important for the environment's well-being. He said that many of the goods dropped off would be resold, as part of the process. Metal and plastic were separated from the recycled items.
Walters said that hosting this recycling event was a positive move for the municipality. "We're happy to participate in anything that's [occurring] for a good cause," said the Hamburg town supervisor.
Cindy Jessop, who serves as SunnKing's director of Community Outreach, said that she is actively involved in weekend recycling events all over the region.
She added that Saturday's event served as a "great partnership" with Grisanti's office and that the event was serves as a charitable source, as well, with a penny per pound of collected items' being donated.
Grisanti has taken an active stance with recycling initiatives since he took office in 2011.
http://www.metrowny.com/news/209-Hamburg_collaborates_with_Senator_Mark_Grisanti_on_town-wide_recycling_event.html