O'Mara addresses environmental groups in Albany ~ highlights conservation legacy of President Theodore Roosevelt ~ 'Responsible government, balanced decisions'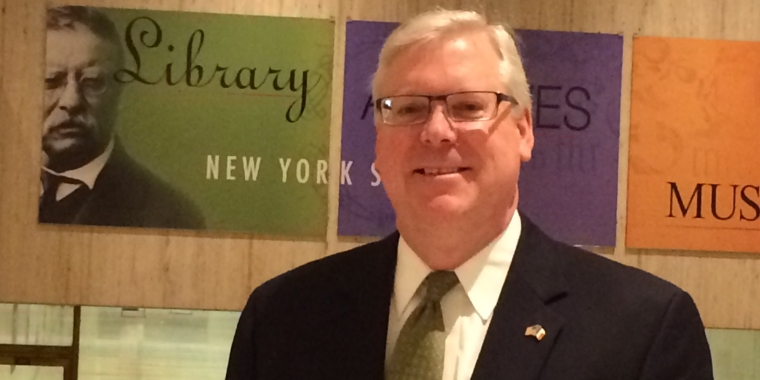 Albany, N.Y., March 10—State Senator Tom O'Mara (R,C-Big Flats), the newly appointed chairman of the Senate Environmental Conservation Committee, yesterday addressed the representatives of more than 100 environmental, conservation, recreational and community organizations who were at the Capitol to urge Governor Andrew Cuomo and state legislative leaders to include a stronger state commitment to conservation funding in the new state budget.
The group, Friends of the Environment, represents a broad partnership of organizations from around the state and includes a number of locally based groups such as the  Chemung Valley Audubon Society and Finger Lakes Land Trust.
The state's Environmental Protection Fund (EPF), established in 1993, has been as a key source of state aid assisting local communities in undertaking a range of projects from drinking water quality to wetlands protection, community parks enhancement to recycling programs, and farmland conservation to controlling invasive species.  And so much more.  Read more about the fund at http://www.dec.ny.gov/about/92815.html.        
In his 2015-16 proposed state budget, the governor included $172 million for the EPF, a $10-million increase over last year.  The advocates are hoping that the final 2015-2016 state budget will include a $200-million EPF.  It was announced on Wednesday that the Senate's one-house Budget Resolution, a document which outlines the chamber's budget priorities and sets the stage for final negotiations with the governor and the Assembly, includes a $200 million in EPF funding, reflecting a $38-million increase over last year.   
In his remarks on Monday, O'Mara echoed one of New York State's favorite sons – former state assemblyman, governor, Vice President and President Theodore "T.R." Roosevelt, Jr., who's widely admired and recognized as the most conservation-minded President in American history. O'Mara called Roosevelt's environmental legacy "inspirational."
"I truly believe that everyone in this room shares a critical piece of common ground, and it's a common ground that's a vital starting point for our future success. President Theodore Roosevelt expressed it as 'the great central task of leaving this land even a better land for our descendants than it is for us,'" said O'Mara. "We will have differences and face controversies.  But we have a responsibility to stewardship and conservation.  We have a responsibility to do our best to address the challenges, to work through them, and consider and negotiate them in a balanced, deliberate, fair, serious and sensible way.  I hope we will."
O'Mara expressed his support for the long-term goal of fully restoring the EPF, stressing its environmental and economic importance to New York's future.
[In the photo above, O'Mara stands before an image of President Theodore "T.R." Roosevelt, Jr. as part of an exhibit at the New York State Museum in Albany. Roughly 230 million acres of public land were protected during Roosevelt's presidency. Numerous other landmark achievements under Roosevelt included the establishment of 150 National Forests, 51 federal bird reservations, four national game preserves and the United States Forest Service. "Human development and conservation can happen together," Roosevelt once said. "Responsible government, balanced decisions."]