State announces main entrance to Watkins Glen State Park to get a major makeover ~ Watkins Glen has been recognized as one of America's best state parks, draws close to a million visitors annually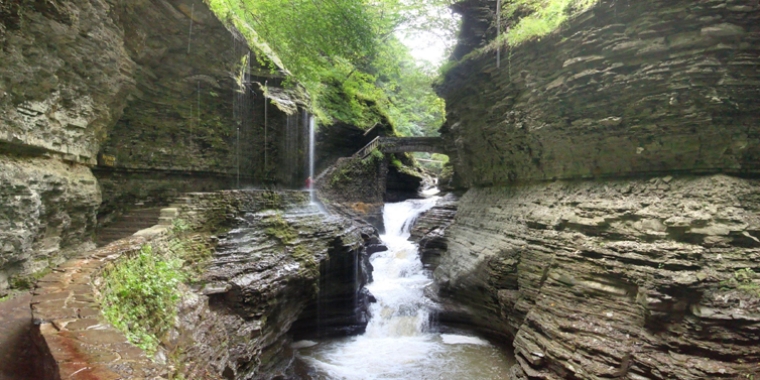 State and local officials, including area state legislators Senator Tom O'Mara (R,C,I-Big Flats) and Assemblyman Phil Palmesano (R,C,I-Corning), and Watkins Glen Mayor Sam Schimizzi, announced today a major project to revitalize the main entrance to Watkins Glen State Park, which has been recognized as the 3rd Best State Park in America. 
O'Mara said, "One of the nation's greatest state parks certainly deserves a grand entrance. We're grateful to Governor Cuomo and everyone at the State Office of Parks and Recreation for this long-awaited enhancement to Watkins Glen State Park. We've been extremely proud here in the Finger Lakes region to have Watkins Glen recognized as the third best state park in America, and we're appreciative to have a park entrance that's a worthy welcome to all of the natural wonders awaiting the park's hundreds of thousands of annual visitors."
Palmesano said, "We appreciate Governor Cuomo and the Office of Parks for their commitment to enhancing what is already one of the great attractions in the Finger Lakes region, New York State and, in fact, the nation. Watkins Glen State Park draws nearly a million visitors a year and this new entrance promises to be an exciting and worthy welcome to America's third best state park."
Schimizzi said, "The Village of Watkins Glen understands the importance of the Watkins Glen State Park to its future development. We are pleased to see this project coming to fruition in the upcoming year. Congratulations!" 
Read today's full announcement HERE.
Read more from the Star-Gazette, "Watkins Glen State Park entrance to get $6.5M makeover"