Schumer, In Manhasset, Promises Cybersecurity Aid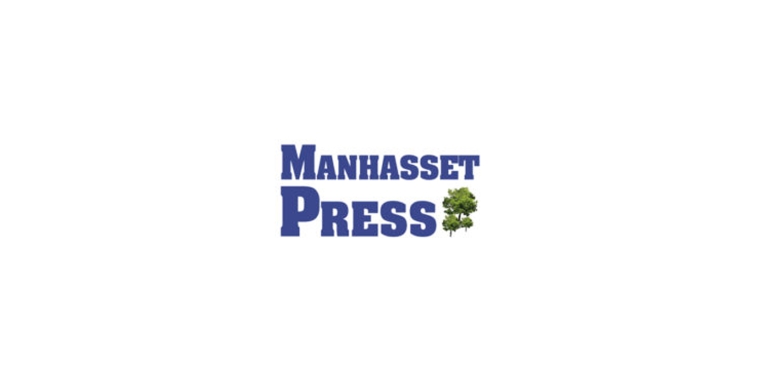 The cyberattack on the Manhasset district's network had been in the news lately, So what better backdrop than the Manhasset Secondary School for U.S. Senator and Majority Leader Chuck Schumer (D–New York) to make an announcement on federal funding to combat cyberattacks?
On Nov. 22, Schumer was joined by Manhasset School District officials and local leaders, including state Senator Anna Kaplan, state Assemblywoman Gina Sillitti and Town of North Hempstead Supervisor-elect Jennifer DeSena, to announce the funding in the wake of Manhasset's recent cyberattack.
"This problem of cyberattacks, hackers and the ransomware they traffic is nails on the chalkboard of our schools, but today, we come with the news of relief to the tune of $1 billion in federal funds that's not only needed, but long overdue," Schumer said.
Published sources indicate that New York State will get about $28 million of that total for cybersecurity, part of the $1.2 trillion bipartisan infrastructure bill. Districts can apply for aid once the details are released. The money will help districts affected by a cyberattack to recover, while also preventing future attacks by providing the funds necessary to implement software and other protective measures.
"This is an era, unfortunately, when our school districts have to do more than just educate our children," Schumer observed. "They have to employ cyberexperts. They have to spend lots of money to build firewalls to protect privacy Information in the schools, [which] have lots of information about kids. Let's say the kid visits the nurse or her school counselor—that's the kind of information nobody wants published. Information that could be also be used to go after a family. So this is a horrible thing."
Before his remarks, Schumer huddled with school officials, and Deputy Superintendent for Business and Operations Rosemary Johnson got a few moments to tell the senator about the school's expenses incurred by the attack, which he brought up.
He called the federal funds long overdue and noted, "Some [districts] have paid ransom. Some haven't. But whether you've paid ransom or not, the expenses go beyond what the cyberattacker asked for (and here Johnson nodded her head). Because you have to fix your whole systems."
He turned to Johnson and asked if she was going to speak, but she deferred to Manhasset Acting Superintendent of Schools Dr. Gaurav Passi.
Schumer continued, "We're writing the regulations on [the bill] and we will make sure that when the regulations are passed, Long Island will be given some special attention because they've been so many attacks here."
He noted that 13 districts in Long Island have been hit by cyber attacks between 2018 and 2020 and the average ransom payment was $118,000 but the total cost for rectifying the attacks totaled more than $2 million.
Passi told the assembled that the district had not paid ransomware, but in a conversation with the Manhasset Press after the conference he stated, "We're estimating that it will cost about $700,000 for us to both respond for the incident and to fortify our systems moving forward."
In her presentation of the district's financial audit at the Nov. 18 board of education meeting, Johnson stated that the cost will be covered by the district's fund balance.
"The infusion of federal money will assist school districts like ours, so that we may maintain our focus on educating our students," Passi said during his comments.
Reaching for a metaphor, Schumer said, "It's like taking a school and it's sort of throwing it up in the air and everything is tossed around, including the kids and the people who work there. In 2019 there was an attack on the Rockville Centre school district and they paid over $100,000 and it's all coming out of the pockets of the taxpayers."
He continued, "Today my message to our local schools is simple. Get your plans ready and I will help you deliver your applications to the DHS [Department of Homeland Security] to tap this billion-dollar plan. Our Long Island schools need grade A help. I'm here to provide it, in terms of dollars and in terms of accessing those dollars so they could do the most good."
Reliving Nightmare
Summarizing what had happened, Passi related that on Sept. 14, "cyberattackers managed to encrypt the district's computer network. Thousands of files were stolen and a significant ransom was demanded to free our computer network. The district work diligently and effectively to respond to the attack as quickly and carefully as possible. We brought all resources to bear. And due to security updates that were recently completed by our network engineers and our IT staff, we were well-positioned to restore our network without the payment of ransom to the criminals."
He added, "It should not be understated. The attack created havoc on the daily operations of the district. As the senator said, for several weeks our teachers, students and staff were without the technological infrastructure that they rely on to deliver instruction and conduct the day-to-day operations of the district."
Students and faculty did not have access to instructional materials, lesson plans and other resources for significant amount of time, he noted. And despite the attackers' efforts to disrupt instruction, Passi went on, "Our teachers and staff continue to deliver meaningful instruction to our students for the duration of this attack. We gratefully applaud their efforts."
Passi revealed that the criminals "made the decision to inflict further harm on our community by posting the files they had stolen to the dark web. Many of these files contained sensitive information regarding current and former students and staff. Publishing such information is a horrendous invasion of personal privacy and caused untold distress to the districts employees, retirees, students and families."
The superintendent thanked Schumer for his efforts to ensure assistance reaches school districts across Long Island and throughout the state.
More Talk
"Thanks to Senator Schumer and the bipartisan infrastructure bill, we're going to have a national policy to prevent the next attack from happening in the first place and help victims recover from the devastating attack." Senator Anna Kaplan (D–Great Neck) said. "This is going to be a game changer for our communities."
"You really don't think how much our information is on computers. What a nightmare this was," Assemblywoman Gina Sillitti (D–Manorhaven) commented. "Manhasset is one of the best school districts in New York. And if it could happen [here] it could happen anywhere and it is happening. This cyber warfare is happening in real time every single day and we need to get the fixes so we don't do it on the backs of the taxpayers. That's why so we're so grateful that we have this money so that the schools will be able to upgrade their infrastructure make sure something like this doesn't happen again."
BOCES Superintendent Robert Dillon said that technology has become an integral part of educational programs.
"We need it to advance our kids," he said. "These young men and women (pointing to a clutch of Manhasset students who had come out to watch the press conference), they will be the future [helping] to stay one step ahead the bad guys. We at BOCES are committed to working with the district to provide the assistance to thwart the cyberattacks."
In reply to a question Schumer said school districts who are eligible will get money to repair the breach and move into the future. School districts that haven't been attacked will get funds to prepare to avoid the attack. The money is not eligible for paying ransoms and won't pay for insurance, but it will lower district's insurance costs once they do all the protective things.
A reporter from the school's new broadcast media class asked Schumer to explain in terms that students could understand what the money will do.
"It helps school districts that have been attacked recover from those attacks so it never happens again," Schumer replied. "The regulations have not been written, but I believe schools like Manhasset will get priority. [It allows] districts to get the kind of software and other protections that are needed. We can protect against these ransom attacks, but it costs money. Our school districts are strapped for money. No one wants the taxes to go up any further. This is why the federal government has stepped in. And it's going to be an incentive. Schools won't have to choose between spending money on [buildings or instruction] versus protecting against cyber attack."